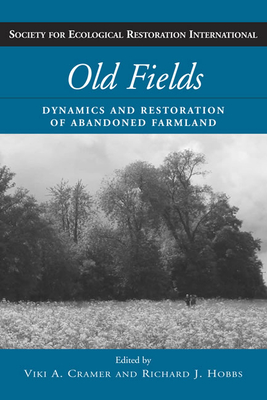 Old Fields (Hardcover)
Dynamics and Restoration of Abandoned Farmland (The Science and Practice of Ecological Restoration Series)
Island Press, 9781597260749, 352pp.
Publication Date: October 12, 2007
Other Editions of This Title:
Paperback (10/12/2007)
* Individual store prices may vary.
Description
Land abandonment is increasing as human influence on the globe intensifies and various ecological, social, and economic factors conspire to force the cessation of agriculture and other forms of land management. The "old fields" that result from abandonment have been the subject of much study, yet few attempts have been made to examine the larger questions raised by old field dynamics.
 
Old Fields brings together leading experts from around the world to synthesize past and current work on old fields, providing an up-to-date perspective on the ecological dynamics of abandoned land. The book gives readers a broad understanding of why agricultural land is abandoned, the factors that determine the ecological recovery of old fields, and how this understanding contributes to theoretical and applied ecology.
 
Twelve case studies from diverse geographical and climatic areas—including Australian rainforest, Brazilian Amazonia, New Jersey piedmont, and South African renosterveld—offer a global perspective on the causes and results of land abandonment. Concluding chapters consider the similarities and differences among the case studies, examine them in the context of ecological concepts, and discuss their relevance to the growing field of restoration ecology.
 
Old Fields is the first book to draw together studies on old fields from both a theoretical and practical perspective. It represents an important contribution to the development of theory on old field dynamics and the practice of ecological restoration on abandoned farmland, and the broader implications of old field dynamics to ecology and restoration.
 
About the Author
Richard J. Hobbs is Australian Laureate Fellow at the University of Western Australia, Fellow of the Australian Academy of Science, and Editor-in-Chief of the journal Restoration Ecology.
Praise For Old Fields: Dynamics and Restoration of Abandoned Farmland (The Science and Practice of Ecological Restoration Series)…
"Conservation of plant communities often boils down to managing succession. Nowhere is this more obviously true than in old fields. This book powerfully illustrates the great variety of patterns and processes that take place in abandoned agricultural land around the globe. It is an invaluable guide to how nature beats ploughshares into swards."
— Jonathan Silvertown
"The lessons to be learned from the study of old field succession are important for both ecology in general and restoration ecology in particular. This volume presents a sound conceptual framework with discussion of the socioeconomic causes of land abandonment skillfully interwoven with case histories from around the globe. It is an invaluable addition to the SER series, and important for researchers, students, and practitioners. I recommend it without reservation."
— Jim Harris
"Agriculturally transformed land is being abandoned as economics and lifestyles change globally, and in all sorts of ecosystems. In Old Fields, the editors use cases from around the world to compare theoretical models of old field vegetation change with reality, challenging us to know when benign neglect or active restoration will maximize the ecological or socioeconomic values of old field ecosystems."

— Suzanne J. Milton
or
Not Currently Available for Direct Purchase