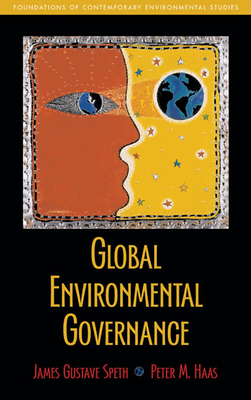 Global Environmental Governance
Foundations of Contemporary Environmental Studies (Foundations of Contemporary Environmental Studies Series)
Hardcover

* Individual store prices may vary.
Description
Today's most pressing environmental problems are planetary in scope, confounding the political will of any one nation. How can we solve them?

Global Environmental Governance offers the essential information, theory, and practical insight needed to tackle this critical challenge. It examines ten major environmental threats-climate disruption, biodiversity loss, acid rain, ozone depletion, deforestation, desertification, freshwater degradation and shortages, marine fisheries decline, toxic pollutants, and excess nitrogen-and explores how they can be addressed through treaties, governance regimes, and new forms of international cooperation.

Written by Gus Speth, one of the architects of the international environmental movement, and accomplished political scientist Peter M. Haas, Global Environmental Governance tells the story of how the community of nations, nongovernmental organizations, scientists, and multinational corporations have in recent decades created an unprecedented set of laws and institutions intended to help solve large-scale environmental problems. The book critically examines the serious shortcomings of current efforts and the underlying reasons why disturbing trends persist. It presents key concepts in international law and regime formation in simple, accessible language, and describes the current institutional landscape as well as lessons learned and new directions needed in international governance. Global Environmental Governance is a concise guide, with lists of key terms, study questions, and other features designed to help readers think about and understand the concepts discussed.

Praise For Global Environmental Governance: Foundations of Contemporary Environmental Studies (Foundations of Contemporary Environmental Studies Series)…
"With its concise but very thorough treatment of the inherently complex topic of global governance, whether focused on environmental or other issues, this first in the series sets a high bar for the ensuing books."
— Choice

"Global Environmental Governance serves as an essential primer on the formation of international environmental law and policy...A wonderfully informative account by two of the most respected experts in the field, Global Environmental Governance is not to be missed for anyone looking toward the future of environmental law."
— InBrief

"Speth and Haas have penned a compact, elegant account of global environmental politics, diplomacy, and institutions and their intellectual foundations.  The authors combine insider experience with scholarly perspective, a sense of urgency with a sense of humor…The best book of its kind yet written."
— J.R. McNeill, author of "Something New Under the Sun"

"Speth and Haas take us on an inspiring journey into the world of sustainable development and the global response. Their book is an excellent introduction to a subject of the greatest importance."
— Gro Harlem Brundtland, former prime minister of Norway

"A superb primer on global environmental trends and their underlying causes, efforts over the past thirty years to deal with them, and possible solutions for the future, including radically new approaches. It would be an excellent starting point for any college environmental policy course."
— Norman Vig, Winifred and Atherton Bean Professor of Science, Technology, and Society, Emeritus, Carleton College
Island Press, 9781597260800, 192pp.
Publication Date: May 12, 2006
About the Author
James Gustave Speth is dean of the Yale School of Forestry and Environmental Studies and professor in the practice of environmental policy and sustainable development. He was founder and president of the World Resources Institute; professor of law at Georgetown University; chairman of the U.S. Council on Environmental Quality; and senior attorney and cofounder, Natural Resources Defense Council.  He has been deeply involved in a number of projects for the United Nations, most recently serving as administrator of the United Nations Development Programme and chair of the United Nations Development Group. Among his awards are the National Wildlife Federation's Resources Defense Award, the Natural Resources Council of America's Barbara Swain Award of Honor, a 1997 Special Recognition Award from the Society for International Development, the Lifetime Achievement Award of the Environmental Law Institute, and the Blue Planet Prize. His publications include Red Sky at Morning: America and the Crisis of the Global Environment; Worlds Apart: Globalization and the Environment; and articles in Foreign Policy, Foreign Affairs, Environmental Science and Technology, the Columbia Journal World of Business, and other journals and books.
Peter M. Haas is professor and Graduate Program Director in International Relations at the University of Massachusetts at Amherst. He has served as a consultant to the U.S. Department of State, U.S. EPA, Commission on Global Governance, and the United Nations Environment Program. He is a member of the editorial board of the Journal of European Public Policy, Global Environmental Politics, Policy Studies Journal, and the MIT Press Series on Politics, Science and the Environment.
or
Not Currently Available for Direct Purchase