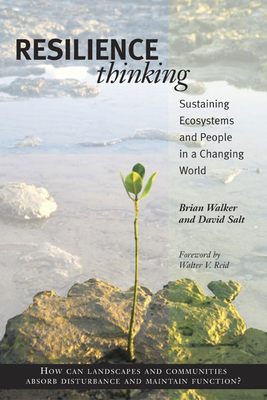 Resilience Thinking (Paperback)
Sustaining Ecosystems and People in a Changing World
Island Press, 9781597260930, 192pp.
Publication Date: August 22, 2006
Other Editions of This Title:
Hardcover (8/22/2006)
* Individual store prices may vary.
About the Author
Brian Walker is a Research Fellow in Australia's CSIRO Ecosystem Sciences, Visiting Researcher in the Stockholm Resilience Centre, and Chair of the Resilience Alliance. 
 
 David Salt is a science and environment writer at the Australian National University, and has more than two decades experience writing and producing popular science magazines and books. 
 
 Both authors live in Canberra, Australia.
Praise For Resilience Thinking: Sustaining Ecosystems and People in a Changing World…
"This is one of those books that barely mentions planning as such, but has lots of implications for it. It's short but will repay some extra quiet time...Their goal is to get us to look at the world and its systems in a fresh new way."
— Planning
"Resilience Thinking is an impressive and highly successful effort to explain complex ecological and social interactions and changes in a unified framework and in language accessible to a wide audience. This book should stimulate extensive discussions on these critical issues and innovative ways to approach them."
— Harold Mooney
"Resilience Thinking provides a much-needed accessible entrée into a concept that holds the key to our future.... Full of wisdom, sophisticated science, and practical guidance, this book provides profound ideas, insights, and hope to scientists, students, managers, and planners alike."
— Jane Lubchenco
"Resilience Thinking is an essential guidebook to a powerful new way of understanding our world—and of living resiliently within it—developed in recent decades by an international team of ecologists. With five clear and compelling case studies drawn from regions as diverse as Florida, Sweden, and Australia, this book shows how all highly adaptive systems—from ecologies to economies—go through regular cycles of growth, reorganization, and renewal and how our failures to understand the basic principles of resilience have often led to disaster. Resilience Thinking gives us the conceptual tools to help us cope with the bewildering surprises and challenges of our new century."
— Thomas Homer-Dixon
"...a clear, readable, non-academic explanation of the difference between an optimization mindset and a resilience mindset."
— GreenSpirit