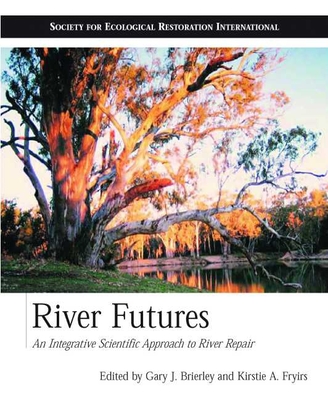 River Futures (Hardcover)
An Integrative Scientific Approach to River Repair (The Science and Practice of Ecological Restoration Series)
Island Press, 9781597261128, 328pp.
Publication Date: June 30, 2008
* Individual store prices may vary.
Description
Across much of the industrialized world, rivers that were physically transformed and ecologically ruined to facilitate industrial and agricultural development are now the focus of restoration and rehabilitation efforts. River Futures discusses the emergence of this new era of river repair and documents a comprehensive biophysical framework for river science and management.
The book considers what can be done to maximize prospects for improving river health while maintaining or enhancing the provision of ecosystem services over the next fifty to one-hundred years. It provides a holistic overview of considerations that underpin the use of science in river management, emphasizing cross-disciplinary understanding that builds on a landscape template.
The book
frames the development of integrative river science and its application to river rehabilitation programs
develops a coherent set of guiding principles with which to approach integrative river science
considers the application of cross-disciplinary thinking in river rehabilitation experiences from around the world
examines the crossover between science and management, outlining issues that must be addressed to promote healthier river futures
Case studies explore practical applications in different parts of the world, highlighting approaches to the use of integrative river science, measures of success, and steps that could be taken to improve performance in future efforts.
River Futures offers a positive, practical, and constructive focus that directly addresses the major challenge of a new era of river conservation and rehabilitation—that of bringing together the diverse and typically discipline-bound sets of knowledge and practices that are involved in repairing rivers. It is a valuable resource for anyone involved in river restoration and management, including restorationists, scientists, managers, and policymakers, as well as undergraduate and graduate students.
About the Author
Richard J. Hobbs is Australian Laureate Fellow at the University of Western Australia, Fellow of the Australian Academy of Science, and Editor-in-Chief of the journal Restoration Ecology.
Praise For River Futures: An Integrative Scientific Approach to River Repair (The Science and Practice of Ecological Restoration Series)…
"Focusing on the future rather than the past, an eco-system perspective, and integrating biological and social interests are among the strategies that these earth and environmental scientists apply to restoring rivers that have been damaged by human activity. Most of the contributors, and most of the case studies, are from Australia and New Zealand, but Europe, Japan, South Africa, and Colorado are also represented."
"The editors...make a strong case that we should focus on what we hope our rivers will look like in the future, rather than trying to return them to what they looked like in the past."
"In
River Futures
, Brierley and Fryirs, along with an international team of authors, provide a vision of what river rehabilitation is and how it should be managed."
"Subjects covered in this collection include: the importance of having a future focus for river rehabilitation, a shift in the science and management of river systems, application of carefully targeted measures to monitor the conditions of river systems, and dedication to the concept of healthier river futures."
"
River Futures
is an unequivocally positive book with a positive message, looking forward and trying to provide solutions."
"In each section, multiple collaborators provide unique perspectives and research examples, mainly from Australia, to explain current river management challenges to raise awareness of the truly multi-disciplinary approaches that will be needed to achieve lasting river health and the future....Overall, the book has useful discussions and descriptions of approaches that will help all readers. There will certainly be a benefit to local decision-makers who are on the socio-political front lines of river management decisions, as they will gain a better understanding of the scientific context of river management."

or
Not Currently Available for Direct Purchase