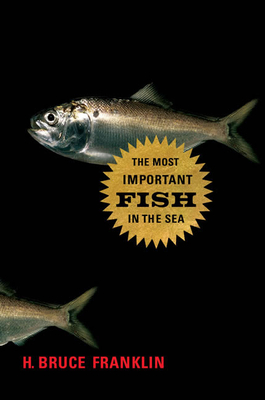 The Most Important Fish in the Sea
Menhaden and America
Hardcover

* Individual store prices may vary.
Other Editions of This Title:
Paperback (10/7/2008)
Description
In this brilliant portrait of the oceans' unlikely hero, H. Bruce Franklin shows how menhaden have shaped America's national—and natural—history, and why reckless overfishing now threatens their place in both. Since Native Americans began using menhaden as fertilizer, this amazing fish has greased the wheels of U.S. agriculture and industry. By the mid-1870s, menhaden had replaced whales as a principal source of industrial lubricant, with hundreds of ships and dozens of factories along the eastern seaboard working feverishly to produce fish oil. Since the Civil War, menhaden have provided the largest catch of any American fishery. Today, one company—Omega Protein—has a monopoly on the menhaden "reduction industry." Every year it sweeps billions of fish from the sea, grinds them up, and turns them into animal feed, fertilizer, and oil used in everything from linoleum to health-food supplements. The massive harvest wouldn't be such a problem if menhaden were only good for making lipstick and soap. But they are crucial to the diet of bigger fish and they filter the waters of the Atlantic and Gulf coasts, playing an essential dual role in marine ecology perhaps unmatched anywhere on the planet. As their numbers have plummeted, fish and birds dependent on them have been decimatedand toxic algae have begun to choke our bays and seas. In Franklin's vibrant prose, the decline of a once ubiquitous fish becomes an adventure story, an exploration of the U.S. political economy, a groundbreaking history of America's emerging ecological consciousness, and an inspiring vision of a growing alliance between environmentalists and recreational anglers.
Praise For The Most Important Fish in the Sea: Menhaden and America…
"Franklin makes the case—persuasively—that the menhaden's role in marine ecology, and its story of decline, is 'perhaps unmatched anywhere on the planet.'"
— Philadelphia Inquirer

"Franklin shows how anglers and environmentalists can work together to preserve this crucial species."
— Plenty

"Franklin's book on the runty menhaden is a killer whale achievement. It's an eloquent call to end the phony business of incremental regulation of fisheries that are rapidly being driven by industry into the abyss."
— Baltimore Sun

"'prose is lucid and infused with an urgency that depends little on hyperbole and largely on careful documentation. His compelling narrative informs and enlightens."
— Washington Post

"Franklin's book is thus not merely an elegant and erudite study of a moribund industry, but an impassioned plea to return our ailing East Coast waters to a state of healthy equilibrium."
— Natural History magazine

"This informative, riveting narrative exposes the greed, short-sightedness and unintended consequences which nearly destroyed the Atlantic coast ecosystem entirely..."
— Publishers Weekly, starred review

". . .an optimistic book. It deals with a resilient little thing that, unlike larger, longer-lived species such as cod, readily bounces back if given the chance."
— Science

"By 1880 there were almost three times more menhaden ships than whaling ships, but since then only three authors have written books about menhaden, and only Bruce Franklin has told the real story. The Most Important Fish in the Sea is a valuable history, a desperately needed warning and a terrific read."
— Ted Williams, Conservation Editor, "Fly Rod & Reel", Editor-at-Large, "Audubon"

"When I was growing up, the Atlantic beaches were occasionally decorated with ranks of dead, smelly menhaden, which we knew as 'mossbunkers.' It took this marvelous book to reveal the ecological, nutritional, and economic significance of Brevoortia tyrannus. Who would have thought that the mossbunker, almost inedible because of its oily flesh, would be one of the most important components of America's commercial fisheries and the health of its coastal waters?"
— Richard Ellis, author of "The Empty Ocean" and "Tiger Bone & Rhino Horn"

"This a fascinating, chilling and yet hopeful account of fish we need for the health of our marine environment."
— Newark Star-Ledger

"How is it possible that a sizeable fish vital to the oceanic food chain and intertwined for three centuries with the cultural histories of both natives and settlers could nevertheless completely escape the notice of most Americans and within a few short years be driven to the brink of extinction for no valid reason whatever? This well researched and vigorously written book—certain to be of wide interest to academic and general readers alike—will tell you why."
— Lawrence Buell, Harvard University, author of "The Environmental Imagination"

"The history of this fish's exploitation for fertilizer and to manufacture numerous products is a fascinating slice of Americana. How menhaden have fallen prey today to a single corporation—with potentially catastrophic effects to the ecosystem—is a saga that will outrage every conservation-minded citizen."
— Dick Russell, author of "Striper Wars" and "Eye of the Whale"
Island Press, 9781597261241, 280pp.
Publication Date: April 1, 2007
About the Author
H. Bruce Franklin is the John Cotton Dana Professor of English and American Studies at Rutgers University-Newark. He has authored or edited eighteen books, including War Stars: The Superweapon and the American Imagination, M.I.A. or Mythmaking in America, Prison Writing in Twentieth-Century America, and Vietnam and Other American Fantasies. Franklin has lectured widely and his hundreds of articles and reviews have appeared in publications including The Atlantic Monthly, The New York Times, Science, The Nation, and Discover.
or
Not Currently Available for Direct Purchase