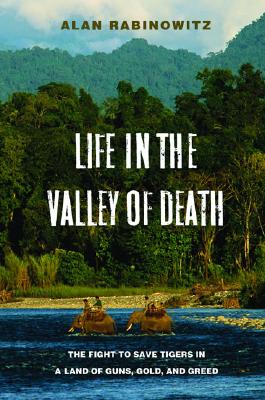 Life in the Valley of Death (Hardcover)
The Fight to Save Tigers in a Land of Guns, Gold, and Greed
Island Press, 9781597261296, 248pp.
Publication Date: November 13, 2007
Other Editions of This Title:
Paperback (8/30/2010)
Big book (1/16/2008)
* Individual store prices may vary.
Description
Dubbed the Indiana Jones of wildlife science by The New York Times, Alan Rabinowitz has devoted—and risked—his life to protect nature's great endangered mammals. He has journeyed to the remote corners of the earth in search of wild things, weathering treacherous terrain, plane crashes, and hostile governments. Life in the Valley of Death recounts his most ambitious and dangerous adventure yet: the creation of the world's largest tiger preserve.
 
The tale is set in the lush Hukaung Valley of Myanmar, formerly known as Burma. An escape route for refugees fleeing the Japanese army during World War II, this rugged stretch of land claimed the lives of thousands of children, women, and soldiers. Today it is home to one of the largest tiger populations outside of India—a population threatened by rampant poaching and the recent encroachment of gold prospectors.
 
To save the remaining tigers, Rabinowitz must navigate not only an unforgiving landscape, but the tangled web of politics in Myanmar. Faced with a military dictatorship, an insurgent army, tribes once infamous for taking the heads of their enemies, and villagers living on less than one U.S. dollar per day, the scientist and adventurer most comfortable with animals is thrust into a diplomatic minefield. As he works to balance the interests of disparate factions and endangered wildlife, his own life is threatened by an incurable disease.
 
The resulting story is one of destruction and loss, but also renewal. In forests reviled as the valley of death, Rabinowitz finds new life for himself, for communities haunted by poverty and violence, and for the tigers he vowed to protect.
About the Author
Alan Rabinowitz is CEO of Panthera Foundation. Educated at the University of Tennessee, with degrees in zoology and wildlife ecology, Dr. Rabinowitz has traveled the world on behalf of wildlife conservation and has studied jaguars, clouded leopards, Asiatic leopards, tigers, Sumatran rhinos, bears, leopard cats, raccoons, and civets.

His work in Belize resulted in the world's first jaguar sanctuary; his work in Taiwan resulted in the establishment of that country's largest protected area, its last piece of intact lowland forest; his work in Thailand generated the first field research on Indochinese tigers, Asiatic leopards, and leopard cats, in what was to become the region's first World Heritage Site; and his work in Myanmar has led to the creation of five new protected areas there: the country's first marine national park, the country's first and largest Himalayan national park, the country's largest wildlife sanctuary, and the world's largest tiger reserve. 

Dr. Rabinowitz has authored nearly eighty scientific and popular articles and six books, including Jaguar: One Man's Struggle to Establish the First Jaguar Preserve (1986/2000), Chasing the Dragon's Tail: The Struggle to Save Thailand's Wild Cats (1991/2002), and Beyond the Last Village: A Journey of Discovery in Asia's Forbidden WildernessNew York Times, National Geographic Adventure Magazine, Outside Magazine, Scientific American, Men's Fitness, GEO, Natural History, and Audubon. He has been featured in television specials by the National Geographic Society and the BBC, and recently consulted on an IMAX film project about tigers in the Sundarbans of Bangladesh and India.
Praise For Life in the Valley of Death: The Fight to Save Tigers in a Land of Guns, Gold, and Greed…
"As a general rule, books by saints are best avoided... The exception to this rule: Alan Rabinowitz. ... Suffice it to say that the guy's halo is green, bright and fully deserved. But he's also a hell of a good writer, which is why Life in the Valley of Death is anything but another desperate dispatch from a shrinking corner of the wild."
— Men's Journal
"Life in the Valley of Death is not your typical chronicle of rescuing wildlife. Rather it's a clear-eyed rendering of conservation's unruly, dangerous, and chaotic side."
— Audubon
"Rabinowitz deserves credit for a political courage no less real than his physical bravery, for being willing to sit down with the devil, occasionally, to save a tiger."
— TIME
"Life in the Valley of Death is the triumphant story of his toughest job to date...Rabinowitz had to gain the cooperation of the ruling military junta and navigate an elaborate bureaucracy. That he succeeded testifies to his modesty, patience, and ability to persuade powerful people of the importance of saving tigers."
— National Geographic Adventure
"For 20 years, he has traveled the world, imploring the power elite of democracies and dictatorships to dedicate large parcels as reserves for these imperiled felines."
— New York Times
"By engaging Myanmar's ruthless military dictatorship, Alan Rabinowitz has pulled off extraordinary feats for tiger conservation. His is a story of drawing lines—geographic, political, and moral."
— Conservation
"The story of how this lofty goal is accomplished makes for absorbing reading; this very personal account of the nuts and bolts of international conservation will resonate with lovers of the earth's last wild places."
— Booklist
"Engaging. . . [Rabinowitz] is a man on a mission and we are not really surprised when that mission ultimately proves successful."
— Explorer's Journal
"In an inspiring, personal book, Rabinowitz recounts his struggles to protect the tiger population in Myanmar, formerly Burma. . .Ultimately, his book is about challenges, possibilities, and hope."
— Library Journal
"Alan Rabinowitz is a hero of mine. He combines the courage and initiative of nineteenth-century explorer with the knowledge of a modern wildlife scientist, thereby achieving solid conservation in some of the most remote and critical parts of the world. Life in the Valley of Death represents a high point in a remarkable life."
— Edward O. Wilson, University Professor Emeritus, Harvard University
"I could not put down this remarkable book. Alan Rabinowitz's personal journey is every bit as moving and inspiring as is his passionate and courageous battle to save the world's most endangered great cats. We need the mystery and majesty of wild things and wild places. I am convinced that the efforts of Alan and his colleagues will have a profound effect on our collective soul."
— Glenn Close, actress
"Move over Indiana Jones—Alan 'Burma' Rabinowitz is a great man with a great vision. His dramatic story of hope and heroism facing tangled jungles, political intrigue, and a personal battle with cancer will have you on the edge of your seat, cheering for both him and the tigers."
— Sy Montgomery, author of "Spell of the Tiger" and "The Good Good Pig"
"By turns sad and uplifting, Life in the Valley of Death tells the amazing tale of Alan Rabinowitz's courageous and spirited efforts to protect Burma's (Myanmar's) remaining tigers and establish the Hukawng Valley Reserve. It is hard to imagine a more passionate or exciting account of today's conservation challenges, or a more thoughtful rendering of life, death, and politics in Burma's most remote corners."
— Thant Myint-U, author of "The River of Lost Footsteps: A Personal History of Burma"
or
Not Currently Available for Direct Purchase