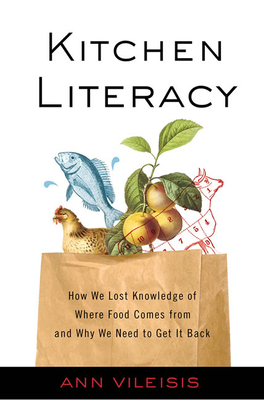 Kitchen Literacy (Hardcover)
How We Lost Knowledge of Where Food Comes from and Why We Need to Get It Back
Island Press, 9781597261449, 352pp.
Publication Date: October 24, 2007
* Individual store prices may vary.
Description
Ask children where food comes from, and they'll probably answer: "the supermarket." Ask most adults, and their replies may not be much different. Where our foods are raised and what happens to them between farm and supermarket shelf have become mysteries. How did we become so disconnected from the sources of our breads, beef, cheeses, cereal, apples, and countless other foods that nourish us every day?
 
Ann Vileisis's answer is a sensory-rich journey through the history of making dinner. Kitchen Literacy takes us from an eighteenth-century garden to today's sleek supermarket aisles, and eventually to farmer's markets that are now enjoying a resurgence. Vileisis chronicles profound changes in how American cooks have considered their foods over two centuries and delivers a powerful statement: what we don't know could hurt us.
 
As the distance between farm and table grew, we went from knowing particular places and specific stories behind our foods' origins to instead relying on advertisers' claims. The woman who raised, plucked, and cooked her own chicken knew its entire life history while today most of us have no idea whether hormones were fed to our poultry. Industrialized eating is undeniably convenient, but it has also created health and environmental problems, including food-borne pathogens, toxic pesticides, and pollution from factory farms.
 
Though the hidden costs of modern meals can be high, Vileisis shows that greater understanding can lead consumers to healthier and more sustainable choices. Revealing how knowledge of our food has been lost and how it might now be regained, Kitchen Literacy promises to make us think differently about what we eat.
About the Author
Ann Vileisis is a writer and historian. She is the author of Discovering the Unknown Landscape: A History of America's Wetlands (Island Press, 1997), which won prestigious awards from the American Historical Association and the American Society for Environmental History. An avid gardener and cook, she lives on the Oregon coast.
Praise For Kitchen Literacy: How We Lost Knowledge of Where Food Comes from and Why We Need to Get It Back…
"[Kitchen Literacy by Ann Vileisis] performs a valuable service in reminding readers that we were not always so clueless when it came to making food choices."
— Washington Post
"Vileisis's well-researched treatise will give those interested in local and organic foods, food processing and American culinary culture plenty to chew on..."
— Publishers Weekly
"This book...gave me encouragement to keep on doing what I can to make our food world a happier, wiser, more truly sustainable one."
— Real Simple
"Kitchen Literacy provides a cautionary tale of how we got so far off the eaten path in the first place."
— eatingwell.org
"Kitchen Literacy brings home just how essential it is for eaters to cultivate knowledge of their food."
— American Scientist
"Vileisis gathers it all in one place, weaving a clear, easy-to-read tapestry whose meaning is plain by the end of the book: you are what you eat, so think about what you've been eating… This important and eye-opening book uncovers the machinery behind the modern food industry…"
— Library Journal
"It is no exaggeration to say that the single most vital connection any of us has to the natural world is the food we eat. And yet the paradox of modern life is that over the past century, most of us have become profoundly ignorant about where our food comes from and the myriad ways it affects us. In her wonderful new book Kitchen Literacy, Ann Vileisis explains how we came to forget so much about the food we eat...and how much we gain by remembering the journeys it makes to reach our tables."
— William Cronon, author of "Changes in the Land and Nature's Metropolis"
"Kitchen Literacy goes to the heart of our disconnection from one of the most vital and intimate aspects of our lives—how we feed ourselves and our families. Accessible, entertaining, and enlightening, Ann Vileisis's new book has given us the historical context to understand what we have lost and how to bring food back to where it belongs—at the center of our families and communities."
— Michael Ableman, farmer and author of "Fields of Plenty"
"A 'must-read' for modern-day consumers in the post-family farm era."
— Midwest Book Review
or
Not Currently Available for Direct Purchase