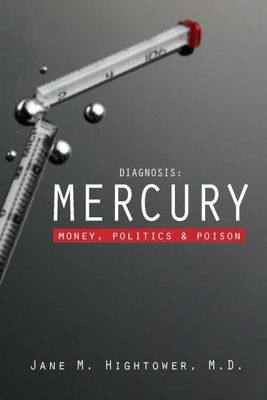 Diagnosis (Hardcover)
Mercury: Money, Politics, and Poison
Island Press, 9781597263955, 328pp.
Publication Date: September 29, 2008
Other Editions of This Title:
Paperback (3/16/2011)
* Individual store prices may vary.
Description
One morning in 2000, Dr. Jane Hightower walked into her exam room to find a patient with disturbing symptoms she couldn't explain. The woman was nauseated, tired, and had difficulty concentrating, but a litany of tests revealed no apparent cause. She was not alone. Dr. Hightower saw numerous patients with similar, inexplicable ailments, and eventually learned that there were many more around the nation and the world. They had little in common—except a healthy appetite for certain fish.
 
Dr. Hightower's quest for answers led her to mercury, a poison that has been plaguing victims for centuries and is now showing up in seafood. But this "explanation" opened a Pandora's Box of thornier questions. Why did some fish from supermarkets and restaurants contain such high levels of a powerful poison? Why did the FDA base its recommendations for "safe" mercury consumption on data supplied by Saddam Hussein's Ba'athist extremists? And why wasn't the government warning its citizens?
 
In Diagnosis: Mercury, Dr. Hightower retraces her investigation into the modern prevalence of mercury poisoning, revealing how political calculations, dubious studies, and industry lobbyists endanger our health. While mercury is a naturally occurring element, she learns there's much that is unnatural about this poison's prevalence in our seafood. Mercury is pumped into the air by coal-fired power plants and settles in our rivers and oceans, and has been dumped into our waterways by industry. It accumulates in the fish we eat, and ultimately in our own bodies. Yet government agencies and lawmakers have been slow to regulate pollution or even alert consumers.
 
Why? The trail of evidence leads to Canada, Japan, Iraq, and various U.S. institutions, and as Dr. Hightower puts the pieces together, she discovers questionable connections between ostensibly objective researchers and industries that fear regulation and bad press. Her tenacious inquiry sheds light on a system in which, too often, money trumps good science and responsible government. Exposing a threat that few recognize but that touches many, Diagnosis: Mercury should be required reading for everyone who cares about their health.
About the Author
Jane M. Hightower, M.D., is a board certified internal medicine physician in San Francisco, California. She published a landmark study that brought the issue of mercury in seafood to national attention. She continues to publish scientific papers and give lectures on the subject.
Praise For Diagnosis: Mercury: Money, Politics, and Poison…
"Dr. Hightower passionately argues that we still need numbers and hard facts; without them consumers cannot make appropriate informed choices. Hightower has worked long and hard on this fight to make the dangers of mercury public and this important new book highlights the long and lonely quest she has fought to help get us where we are today."
— Senator Patrick Leahy
"Dr Hightower's intriguing tale takes us from her physician's office to sites of mercury poisoning and through the halls of Congress where public policy will determine our future exposure to this heavy metal. Throughout, she shows how important it is to understand mercury's wide-ranging health effects and the urgent need to set stricter limits on the amount of this known neurotoxin emitted from coal-fired power plants, which contaminates the fish we eat."
— Paul R. Epstein, M.D., M.P.H., Center for Health and the Global Environment, Harvard Medical School
"Not content with discovering mercury-contaminated food as the reason for her patients' strange symptoms, Jane Hightower follows the threads even further. Driven by curiosity, courage, and pure persistence, she enters a messy world of science and public environmental health contaminated with money and special interests. This tale is for every citizen of the world."
— Ted Schettler, science director, Science and Environmental Health Network
"...A voyage of discovery that led this idealistic physician into the murky waters of corporate cover-ups and conflicting science, bemused colleagues and corrupt officials, mass poisonings and what may be a widespread but obstinately unrecognised problem for ordinary consumers. She relates that voyage, and the surprising history of mercury, crisply and, for the most part, clearly in
Diagnosis: Mercury
.... I defy anyone not to be angry by the end of this book."
— New Scientist
"Hightower's impressive book is an extension of her own path of discovery and research about mercury in our fish supply."
— Seattle Post-Intelligencer
"Diagnosis: Mercury...sheds light on a system in which money trumps good science and responsible government."

— Publishers Weekly
or
Not Currently Available for Direct Purchase