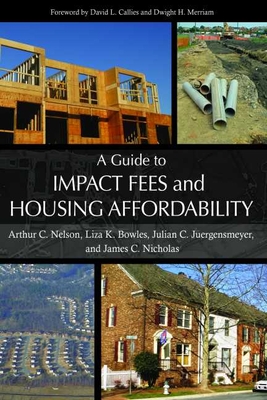 A Guide to Impact Fees and Housing Affordability (Hardcover)
Island Press, 9781597264136, 320pp.
Publication Date: April 30, 2008
* Individual store prices may vary.
Description
Impact fees are one-time charges that are applied to new residential developments by local governments that are seeking funds to pay for the construction or expansion of public facilities, such as water and sewer systems, schools, libraries, and parks and recreation facilities. In the face of taxpayer revolts against increases in property taxes, impact fees are used increasingly by local governments throughout the U.S. to finance construction or improvement of their infrastructure. Recent estimates suggest that 60 percent of all American cities with over 25,000 residents use some form of impact fees. In California, it is estimated that 90 percent of such cities impose impact fees.
For more than thirty years, impact fees have been calculated based on proportionate share of the cost of the infrastructure improvements that are to be funded by the fees. However, neither laws nor courts have ensured that fees charged to new homes are themselves proportionate. For example, the impact fee may be the same for every home in a new development, even when homes vary widely in size and selling price. Data show, however, that smaller and less costly homes have fewer people living in them and thus less impact on facilities than larger homes. This use of a flat impact fee for all residential units disproportionately affects lower-income residents.
The purpose of this guidebook is to help practitioners design impact fees that are equitable. It demonstrates exactly how a fair impact fee program can be designed and implemented. In addition, it includes information on the history of impact fees, discusses alternatives to impact fees, and summarizes state legislation that can infl uence the design of local fee programs. Case studies provide useful illustrations of successful programs.
This book should be the first place that planning professionals, public officials, land use lawyers, developers, homebuilders, and citizen activists turn for help in crafting (or recrafting) proportionate-share impact fee programs.
About the Author
Arthur C. Nelson, Ph.D., FAICP, is Associate Dean for Research and Professor of Planning and Real Estate Development in the College of Architecture, Planning and Landscape Architecture at the University of Arizona. He is also Presidential Professor Emeritus of City & Metropolitan Planning at the University of Utah.
For the past thirty years, Dr. Nelson has conducted pioneering research in growth management, urban containment, public facility finance, economic development, and metropolitan development patterns. Numerous organizations have sponsored Dr. Nelson's research, including the National Science Foundation; National Academy of Sciences; U.S. Departments of Housing and Urban Development (HUD), Commerce, and Transportation; U.K. Department of the Environment; Lincoln Institute of Land Policy; Fannie Mae Foundation; American Planning Association; National Association of Realtors; and The Brookings Institution. His research and practice has led to the publication of 14 books and more than 200 other scholarly and professional publications.
Prior to academia, Dr. Nelson managed his own West Coast consultancy in planning and management, and continues to provide professional planning services. In 2000, his professional planning, education, and research accomplishments were recognized as the first Fellow of the American Institute of Certified Planners elected based on a national (as opposed to state) process. From 2000 to 2001, he served HUD as an expert on smart growth and growth management for the Clinton and Bush Administrations. In this capacity, he helped expand HUD's research scholarship programs and create HUD's doctoral fellowship program.
Dr. Nelson has earned three teacher of the year honors at two universities (Kansas State University and Georgia Tech), researcher of the year honors at a third (University of New Orleans), and scholar of the year honors at a fourth (Virginia Tech). His books have shaped the field of impact fees, growth management, and urban containment. His papers have won national awards and international distinction. Dr. Nelson's students have won numerous national awards including the national student project of the year award given by the American Institute of Certified Planners. His former doctoral students are becoming program chairs and research center directors across the U.S. Dr. Nelson has also received numerous commendations for his professional continuing education programs through which he has instructed more than 5,000 professionals in a variety of technical planning and facility financing subjects since the late 1990s.

Praise For A Guide to Impact Fees and Housing Affordability…
"This book is a comprehensive, scrupulously researched, insightful analysis of one challenge facing land use professionals and home builders today, to wit, the need for more affordable housing for America's workforce. It recommends more equitable applications of impact fees by using proportionate share rates instead of uniform rates and flat fees, to soften their negative effects on housing prices and their regressive effects on working people's pocketbooks."
— William Hudnut III, senior resident fellow at The Urban Land Institute
"In a revenue-constrained world, impact fees will not disappear. The challenge is to ensure that such fees do not undermine a balanced community. The authors lay out a clear, fact-filled road map to address that challenge. Communities and developers should take heed."

— Nicolas Retsinas, Director, Joint Center for Housing Studies, Harvard University
or
Not Currently Available for Direct Purchase