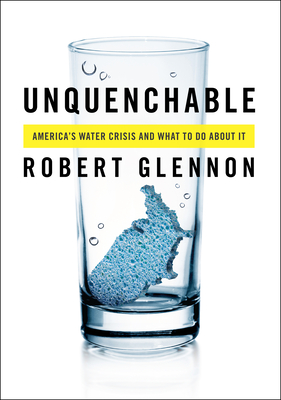 Unquenchable
America's Water Crisis and What To Do About It
Hardcover

* Individual store prices may vary.
Other Editions of This Title:
Paperback (9/23/2010)
Description
In the middle of the Mojave Desert, Las Vegas casinos use billions of gallons of water for fountains, pirate lagoons, wave machines, and indoor canals. Meanwhile, the town of Orme, Tennessee, must truck in water from Alabama because it has literally run out.
 
Robert Glennon captures the irony—and tragedy—of America's water crisis in a book that is both frightening and wickedly comical. From manufactured snow for tourists in Atlanta to trillions of gallons of water flushed down the toilet each year, Unquenchable reveals the heady extravagances and everyday inefficiencies that are sucking the nation dry.
 
The looming catastrophe remains hidden as government diverts supplies from one area to another to keep water flowing from the tap. But sooner rather than later, the shell game has to end. And when it does, shortages will threaten not only the environment, but every aspect of American life: we face shuttered power plants and jobless workers, decimated fi sheries and contaminated drinking water.
 
We can't engineer our way out of the problem, either with traditional fixes or zany schemes to tow icebergs from Alaska. In fact, new demands for water, particularly the enormous supply needed for ethanol and energy production, will only worsen the crisis. America must make hard choices—and Glennon's answers are fittingly provocative. He proposes market-based solutions that value water as both a commodity and a fundamental human right.
 
One truth runs throughout Unquenchable: only when we recognize water's worth will we begin to conserve it.
Praise For Unquenchable: America's Water Crisis and What To Do About It…
"Author Robert Glennon connects the dots between our water woes and climate change, energy, growth, the environment, and agriculture. He makes a compelling case that we need to re-think how we use this prized resource and provides a number of thought-provoking solutions. Informative, insightful, and very interesting."
— U.S. Senator Mark Udall, Colorado
"Robert Glennon makes immediate and specific the most urgent point of crisis threatening the health and welfare of the American environment. The wells of the American dream stand a good chance of running dry, and to read Glennon's necessary book is to know that without water there will be no wine, no roses, nothing over Dorothy's rainbow except a pillar of salt."
— Lewis Lapham, editor, "Lapham's Quarterly"
"Robert Glennon is a leading-edge legal scholar and passionate water advocate whose thinking is central to an intense debate on the path forward to a water-secure world. I heartily recommend his provocative, information-packed, and highly readable new book
Unquenchable
."
— Maude Barlow
"
Unquenchable
is a worthy successor to
Cadillac Desert
that ably demonstrates how our most valuable resource is being squandered, ignored, and flushed away. Although it reminds us that water is indeed finite,
Unquenchable
clearly shows us the solutions to the greatest threat of the 21st century are limited only by politics and greed."
— Terry Tamminen, Cullman Senior Fellow, New America Foundation and former secretary, CA EPA
"Glennon brings home the global problem of availability of drinking water...interesting and timely...recommended."
— Choice
"Glennon illustrates the depth and complexity of our country's water problems."
— Audubon
"Top Ten Environmental Book of 2009"
— Mother Nature Network
"If you use water, you need to read this book. It's akin to
Cadillac Desert
"
— WaterWired
"Several books have been published recently addressing the global water crisis, but none has offered such in-depth analysis."
— New York Review of Ideas
"Thought-provoking and insightful book that offers and informed and articulate review of the enormous water issues facing Arizona, and the United States as a whole. It should be on the bookshelves of attorneys, environmentalists, public policy managers, and others interested in natural resources."
— Journal of Arizona History
"In Unquenchable, Glennon offers a parade of anecdotes to argue that we need urgent, fundamental changes in the way we use water in the United States."

— BioScience
Island Press, 9781597264365, 432pp.
Publication Date: May 11, 2009
About the Author
Robert Glennon is the Morris K. Udall Professor of Law and Public Policy in the Rogers College of Law at the University of Arizona. He is the author of many articles and books, including the acclaimed Water Follies: Groundwater Pumpingand the Fate of America's Fresh Waters.
or
Not Currently Available for Direct Purchase