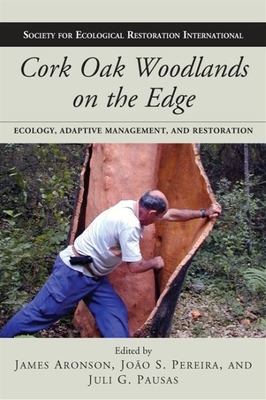 Cork Oak Woodlands on the Edge (Hardcover)
Ecology, Adaptive Management, and Restoration (The Science and Practice of Ecological Restoration Series)
Island Press, 9781597264785, 352pp.
Publication Date: April 22, 2009
Other Editions of This Title:
Paperback (4/24/2009)
* Individual store prices may vary.
Description
Cork oak has historically been an important species in the western Mediterranean—ecologically as a canopy or "framework" tree in natural woodlands, and culturally as an economically valuable resource that underpins local economies. Both the natural woodlands and the derived cultural systems are experiencing rapid change, and whether or not they are resilient enough to adapt to that change is an open question.
 
Cork Oak Woodlands on the Edge provides a synthesis of the most up-to-date, scientific, and practical information on the management of cork oak woodlands and the cultural systems that depend on cork oak.
 
In addition, Cork Oak Woodlands on the Edge offers ten site profiles written by local experts that present an in-depth vision of cork oak woodlands across a range of biophysical, historical, and cultural contexts, with sixteen pages of full-color photos that illustrate the tree, agro-silvopastoral systems, products, resident biodiversity, and more.
 
Cork Oak Woodlands on the Edge is an important book for anyone interested in the future of cork oak woodlands, or in the management of cultural landscapes and their associated land-use systems. In a changing world full of risks and surprises, it represents an excellent example of a multidisciplinary and holistic approach to studying, managing, and restoring an ecosystem, and will serve as a guide for other studies of this kind.
About the Author
James Aronson is a researcher at the Center of Functional and Evolutionary Ecology (CNRS) in Montpellier, France, and head of the Restoration Ecology group at the Missouri Botanical Garden, USA.

João S. Pereira is a professor of ecology and president of the Scientific Council of the Technical University of Lisbon.

Juli G. Pausas is an ecologist of the Spanish National Research Council CIDE,
CSIC). His research focuses on ecology and evolution of Mediterranean plants.
Praise For Cork Oak Woodlands on the Edge: Ecology, Adaptive Management, and Restoration (The Science and Practice of Ecological Restoration Series)…
"This book brings together the best of the ecological and social sciences to assess the condition of an iconic ecosysytem of the western Mediterranean world, with results as useful and beautiful as the cork oak itself."
— J.R. McNeill
"Cork oak forests have coevolved with human societies for thousands of years. They support the livelihoods of millions of people and are a key component of treasured Mediterranean landscapes, but the pressures on these forests have never been greater. This scholarly work offers a wealth of knowledge on the management and restoration of a critical forest system and contains much of significance to those concerned with our relationship to all forests worldwide."
— Jeff Sayer
"
Cork Oak Woodlands on the Edge
provides a broad introduction to a vanishing cultural landscape. Cork oak woodlands are rich in species and also in traditional knowledge and lessons for understanding and coping with global change."
— Fernando Valladares
"This comprehensive account of Mediterranean cork oak trees and the cultural landscapes they have dominated for millennia reveals much about ecology, management, history, and culture. The contributors represent an international group of researchers and managers engaged in exploring and restoring these emblematic ecosystems."
— Francis E. Putz
"[Cork Oak Woodlands on the Edge] is well written, technical and scientifically sound and, being very comprehensive, gives the reader a complete picture of the problem. I think this book is a must for all people interested in climate change and restoration of ecosystems. By reading this you will understand the importance of the use of cork products; that is, the economic importance of such products for the producer countries who have a considerable workforce allocated to this activity."

— International Journal of Environmental Studies
or
Not Currently Available for Direct Purchase