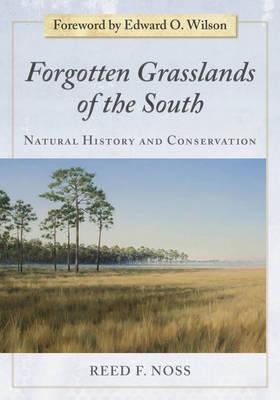 Forgotten Grasslands of the South (Hardcover)
Natural History and Conservation
Island Press, 9781597264884, 320pp.
Publication Date: December 3, 2012
Other Editions of This Title:
Paperback (12/3/2012)
* Individual store prices may vary.
Description
Forgotten Grasslands of the South
is a literary and scientific case study of some of the biologically richest and most endangered ecosystems in North America. Eminent ecologist Reed Noss tells the story of how southern grasslands arose and persisted over time and addresses questions that are fundamental for conserving these vital yet poorly understood ecosystems.
The author examines:
the natural history of southern grasslands
their origin and history (geologic, vegetation, and human)
biological hotspots and endangered ecosystems
physical determinants of grassland distribution, including ecology, soils, landform, and hydrology fire, herbivores, and ecological interactions.
The final chapter presents a general conservation strategy for southern grasslands, including prioritization, protection, restoration, and management. Also included are examples of ongoing restoration projects, along with a prognosis for the future.
In addition to offering fascinating new information about these little-studied ecosystems, Noss demonstrates how natural history is central to the practice of conservation. Natural history has been on a declining trajectory for decades, as theory and experimentation have dominated the field of ecology. Ecologists are coming to realize that these divergent approaches are in fact complementary, and that pursuing them together can bring greater knowledge and understanding of how the natural world works and how we can best conserve it.
Forgotten Grasslands of the South
explores the overarching importance of ecological processes in maintaining healthy ecosystems, and is the first book of its kind to apply natural history, in a modern, comprehensive sense, to the conservation of biodiversity across a broad region. It sets a new standard for scientific literature and is essential reading not only for those who study and work to conserve the grasslands of the South but also for everyone who is fascinated by the natural world.
About the Author
Reed Noss is Provost's Distinguished Research Professor at the University of Central Florida, former editor-in-chief of Conservation Biology, and past-president of the Society for Conservation Biology.
Praise For Forgotten Grasslands of the South: Natural History and Conservation…
"Here's more love being poured on the glorious and endangered landscapes of the South, this time on the grasslands and this time by a man who knows more than anybody about them. A scientist turned writer, Reed Noss is a marvelous guide to what has been lost and what we still have. You're in great hands with this splendid book."
— Janisse Ray, Author of "Ecology of a Cracker Childhood"
"Reed Noss provides readers with a thought-provoking account of his journeys of discovery and inquiry through the little-known, rapidly vanishing grasslands of the American South. He draws on his tremendous experience in global conservation to reflect on the challenges of preserving these marvelous and beautiful places, but does so in a way that transcends geography and makes them a case study in the challenge of preserving nature worldwide."
— Robert K. Peet, Professor of Biology, University of North Carolina at Chapel Hill
"Using a combination of personal narrative, ecological science, and old-fashioned natural history, Reed Noss brings the southern grasslands to life in this eloquent and passionate defense of one of the world's most endangered ecosystems. Noss argues persuasively that humans will only protect the nature we know, and this authoritative book goes a long way toward introducing readers to this biologically rich, once abundant and now rare natural community."
— Mark V. Barrow, author of "Nature's Ghosts"
"What do passenger pigeons have to do with canebreaks, or red pandas in Tennessee with the history of North America? Let this distinguished elder of conservation biology kindle your interest in the history, natural history, and conservation of this unexpectedly diverse, dynamic, and improbable set of habitats: the grasslands of the American South. No reader will ever forget, or underestimate, these grasslands again."
— Don Waller, John T. Curtis Professor of Botany, University of Wisconsin-Madison
"Noss's new book [is]... in many ways his magnum opus... will prove to be an instant classic on several levels. As a piece of natural history writing it is unparalleled in its depth and scope... a rich brew of the most important theories in ecology, plant ecology, conservation biology, biogeography and related sciences... I learned so much on every page..."
— Eric Dinerstein, Vice President and Lead Scientist, Conservation Science Program
"Noss has spent years exploring and studying these grasslands and is aptly qualifi ed to serve as a clearvoiced ambassador of these critically threatened habitats. While giving hope, he outlines a way to move forward by persuasively arguing that humans will only protect that which we are familiar with and endeared to."
— Wildlife Mississippi
"
Forgotten Grasslands of the South
is remarkable in both solid science and solid conservation. The reader comes away with an appreciation and understanding of the history, natural history, and complex ecological interactions of the southern grasslands that inspire dedication to their protection and conservation. This volume is a must-read for those involved in managing, conserving, or who just have an interest in southern ecosystems. Destined to become a classic, the book provides better insight into the development and status of southern ecosystems than anything I have ever read."
— Native Plants Journal
"In the end,
Forgotten Grasslands of the South
re-inspired in me a sense of awe and wonder at the almost inconceivable diversity and irreplaceable endemism of natural communities within the region. I leave with renewed excitement that previously unknown species, even new communities, shaped by millennia of natural processes and narrowly escaping our nearly complete alteration of the landscape, remain to be discovered and appreciated, maybe in our own back yards."
— Ecological Restoration
"Noss's mission is to promote an appreciation for, and understanding of, these neglected [grasslands]."

— Frontiers of Biogeography
or
Not Currently Available for Direct Purchase