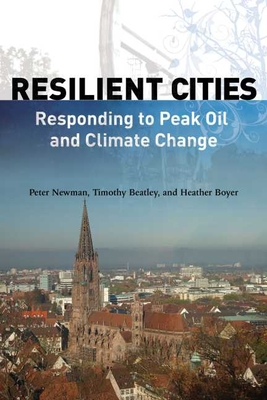 Resilient Cities (Hardcover)
Responding to Peak Oil and Climate Change
Island Press, 9781597264983, 184pp.
Publication Date: January 9, 2009
Other Editions of This Title:
Paperback (1/9/2009)
* Individual store prices may vary.
Description
Half of the world's inhabitants now live in cities. In the next twenty years, the number of urban dwellers will swell to an estimated five billion people. With their inefficient transportation systems and poorly designed buildings, many cities—especially in the United States—consume enormous quantities of fossil fuels and emit high levels of greenhouse gases. But our planet is rapidly running out of the carbon-based fuels that have powered urban growth for centuries and we seem to be unable to curb our greenhouse gas emissions. Are the world's cities headed for inevitable collapse?
The authors of this spirited book don't believe that oblivion is necessarily the destiny of urban areas. Instead, they believe that intelligent planning and visionary leadership can help cities meet the impending crises, and look to existing initiatives in cities around the world. Rather than responding with fear (as a legion of doomsaying prognosticators have done), they choose hope. First, they confront the problems, describing where we stand today in our use of oil and our contribution to climate change. They then present four possible outcomes for cities: "collapse," "ruralized,"  "divided," and "resilient." In response to their scenarios, they articulate how a new "sustainable urbanism" could replace today's "carbon-consuming urbanism." They address in detail how new transportation systems and buildings can be feasibly developed to replace our present low efficiency systems. In conclusion, they offer ten "strategic steps" that any city can take toward greater sustainability and resilience.
This is not a book filled with "blue sky" theory (although blue skies will be a welcome result of its recommendations). Rather, it is packed with practical ideas, some of which are already working in cities today. It frankly admits that our cities have problems that will worsen if they are not addressed, but it suggests that these problems are solvable. And the time to begin solving them is now.

About the Author
Timothy Beatley is the Teresa Heinz Professor of Sustainable Communities at the School of Architecture at the University of Virginia, where he has taught for over twenty-five years. His primary teaching and research interests are in environmental planning and policy, with special emphasis on coastal and natural hazards planning, environmental values and ethics, and biodiversity conservation. He has published extensively in these areas, including the following books: Ethical Land Use; Habitat Conservation Planning: Endangered Species and Urban Growth; Natural Hazard Mitigation; and An Introduction to Coastal Zone Management. In recent years much of his research and writing has been focused on the subject of sustainable communities, and creative strategies by which cities and towns can reduce their ecological footprints, while at the same time becoming more livable and equitable places. His books that explore these issues include Biophilic Cities, Resilient Cities, and Green Urbanism (Island Press).
Heather Boyer is VP/Executive Editor at Island Press and 2005 Loeb Fellow at the Harvard Graduate School of Design.
Praise For Resilient Cities: Responding to Peak Oil and Climate Change…
"The opportunities of the twenty-first century make those of us who care about cities feel like kids in a candy store: How will cities survive and lead the way in the transformation required to combat global warming? Resilient Cities gives us a road map for this epic journey upon which we are embarking."
— Greg Nickels, mayor of Seattle, Washington
"This is the book that we city planners have been waiting for! Powerful, persuasive and instructive, Resilient Cities offers the first comprehensive overview of how to achieve sustainability in our cities."
— Eugenie L. Birch, Nussdorf Professor, Dept. of City & Regional Planning, School of Design, University of Pennsylvania
"Unwilling to accept the collapse of our cities as an option, Newman, Beatley and Boyer have created a vision of possibilities, an inspiring artist's sketch of potentially viable and resilient urban futures."
— William E. Rees, Professor, School of Community & Regional Planning, University of British Columbia, Canada
"This is a useful and creative book, summarizing considerable experience and constructive ideas about ways to cut carbon emissions in cities and increase their resilience at the same time."
— Journal of Urban Design
or
Not Currently Available for Direct Purchase