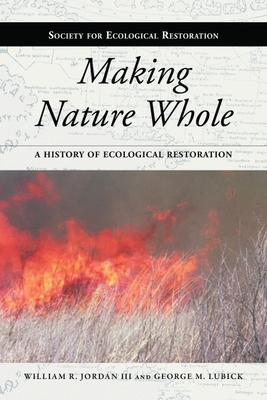 Making Nature Whole (Paperback)
A History of Ecological Restoration (The Science and Practice of Ecological Restoration Series)
Island Press, 9781597265133, 272pp.
Publication Date: July 26, 2011
* Individual store prices may vary.
Description
Making Nature Whole is a seminal volume that presents an in-depth history of the field of ecological restoration as it has developed in the United States over the last three decades. The authors draw from both published and unpublished sources, including archival materials and oral histories from early practitioners, to explore the development of the field and its importance to environmental management as well as to the larger environmental movement and our understanding of the world.
Considering antecedents as varied as monastic gardens, the Scientific Revolution, and the emerging nature-awareness of nineteenth-century Romantics and Transcendentalists, Jordan and Lubick offer unique insight into the field's philosophical and theoretical underpinnings. They examine specifically the more recent history, including the story of those who first attempted to recreate natural ecosystems early in the 20th century, as well as those who over the past few decades have realized the value of this approach not only as a critical element in conservation but also as a context for negotiating the ever-changing relationship between humans and the natural environment.
Making Nature Whole is a landmark contribution, providing context and history regarding a distinctive form of land management and giving readers a fascinating overview of the development of the field. It is essential reading for anyone interested in understanding where ecological restoration came from or where it might be going.
About the Author
William R. Jordan III is Director of the New Academy for Nature and Culture and codirector of the Institute for Nature and Culture, DePaul University, in Chicago, Illinois. George Lubick is a historian who has taught courses in American environmental history and the American West at Northern Arizona University, in Flagstaff.
Praise For Making Nature Whole: A History of Ecological Restoration (The Science and Practice of Ecological Restoration Series)…
"In this deeply personal book, Jordan and Lubick take the time to convince us that ecocentric restoration is crucial not because it is the best or only way to manage landscapes, but because it allows us the step outside ourselves for just a moment, to stop the hands of time, and to revere something larger than ourselves that is simply not interested in us at all."
"Making Nature Whole would be an authoritative source for any discussion of either the future of restoration or man's relationship with nature."
"Jordan and Lubick expertly provide the first comprehensive history of ecological restoration, a history that is both long and wide. They take us back to the first manipulations of nature with fire by early man, through the development of agriculture, and then industrial-scale change and the emergence of a felt need to restore a bit of the world to some whole estate. They range widely through the natural and social sciences, humanities, and religious traditions to understand this urge to restore."
— J. Baird Callicott
"This book would be supremely valuable even if it were simply an excellent history of ecological restoration—which it is. It is also, however, a profound and innovative reflection on humans' complex relations with the nonhuman world. It ranges across many fields, including not only the natural sciences but also literature, history, philosophy, and religion. Jordan and Lubick weave their diverse sources together without ever losing sight of their central question—how do we understand and come to terms with a nature that, in Emerson's words, 'leads us on and on but arrives nowhere'?"
— Anna Peterson
"This well researched book is carefully documented with extensive citations and notes keyed to the chapters in an unobtrusive way that does not interrupt the narrative."
"In sum, this well-written and well-produced book offers a fascinating look at the origins of the discipline of ecological restoration by one of its foremost theorists and practitioners. As such, it will be essential reading for restorationists seeking inspiration and validation."
"Overall, Making Nature Whole: A History of Ecological Restoration is a valuable and exciting read to anyone from a student to the established academic who is interested in the roots of ecological restoration. It successfully combines philosophy, history and ecology to illustrate the long evolution of a discipline that is so clearly important currently."
or
Not Currently Available for Direct Purchase