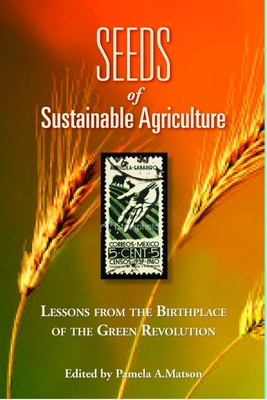 Seeds of Sustainability (Hardcover)
Lessons from the Birthplace of the Green Revolution in Agriculture
Island Press, 9781597265225, 312pp.
Publication Date: December 1, 2011
* Individual store prices may vary.
Description
Seeds of Sustainability is a groundbreaking analysis of agricultural development and transitions toward more sustainable management in one region. An invaluable resource for researchers, policymakers, and students alike, it examines new approaches to make agricultural landscapes healthier for both the environment and people.
 
The Yaqui Valley is the birthplace of the Green Revolution and one of the most intensive agricultural regions of the world, using irrigation, fertilizers, and other technologies to produce some of the highest yields of wheat anywhere. It also faces resource limitations, threats to human health, and rapidly changing economic conditions. In short, the Yaqui Valley represents the challenge of modern agriculture: how to maintain livelihoods and increase food production while protecting the environment.
 
Renowned scientist Pamela Matson and colleagues from leading institutions in the U.S. and Mexico spent fifteen years in the Yaqui Valley in Sonora, Mexico addressing this challenge. Seeds of Sustainability represents the culmination of their research, providing unparalleled information about the causes and consequences of current agricultural methods. Even more importantly, it shows how knowledge can translate into better practices, not just in the Yaqui Valley, but throughout the world.

About the Author
Pamela Matson was a professor at the University of California, Berkeley at the beginning of the Yaqui Valley research project. She then moved to Stanford University, becoming the Goldman Professor of Environmental Studies and Co-director of the Center for Environmental Science and Policy in the Institute for International Studies. She is currently Dean of the School of Earth Sciences at Stanford and Senior Fellow in the Woods Institute for the Environment.

Praise For Seeds of Sustainability: Lessons from the Birthplace of the Green Revolution in Agriculture…
"...cutting edge...rigorous...demonstrates both originality and critical reflectiveness...almost uniquely in our collective experience, it speaks seriously, frankly, and insightfully to the challenges of institutionalizing the sort of work it reports on."
— ESA Sustainability Science Award
"...the substance is ripe for harvesting."
—
Ecology
"This book...provides ample evidence that moving towards sustainability requires the successful identification, assessment and management of risk and uncertainty...it is knowledge-intensive."
—
Experimental Agriculture
"[This book] tells the 'human-environment' story of agriculture in this valley between 1993 and 2008....The contributors/researchers try to understand not only the challenges to the people and ecosystems of the valley, but how to address those challenges."
—
CHOICE
"Matson has provided a pathway for use-inspired, place-based research grounded in the realities of a historically important region. The book is destined to become a classic and oft-cited resource in the growing sustainability science literature."
—
Ecological Restoration
"Seeds of Sustainability would make a great book for introducing the ideals and complexity of sustainability to young scientists and curious citizens."

— Natural Areas Journal
or
Not Currently Available for Direct Purchase