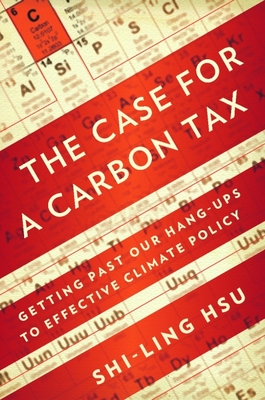 The Case for a Carbon Tax (Paperback)
Getting Past Our Hang-ups to Effective Climate Policy
Island Press, 9781597265331, 248pp.
Publication Date: September 15, 2011
Other Editions of This Title:
Hardcover (9/15/2011)
* Individual store prices may vary.
Description
There's a simple, straightforward way to cut carbon emissions and prevent the most disastrous effects of climate change-and we're rejecting it because of irrational political fears. That's the central argument of The Case for a Carbon Tax, a clear-eyed, sophisticated analysis of climate change policy.
 
Shi-Ling Hsu examines the four major approaches to curbing CO2: cap-and-trade; command and control regulation; government subsidies of alternative energy; and carbon taxes. Weighing the economic, social, administrative, and political merits of each, he demonstrates why a tax is currently the most effective policy. Hsu does not claim that a tax is the perfect or only solution-but that unlike the alternatives, it can be implemented immediately and paired effectively with other approaches.
 
In fact, the only real barrier is psychological. While politicians can present subsidies and cap-and-trade as "win-win" solutions, the costs of a tax are immediately apparent. Hsu deftly explores the social and political factors that prevent us from embracing this commonsense approach. And he shows why we must get past our hang-ups if we are to avert a global crisis.
About the Author
Shi-Ling Hsu is Professor at the University of British Columbia Faculty of Law. Previously, he was Associate Professor at the George Washington University Law School, Senior Attorney and Economist for the Environmental Law Institute in Washington D.C, and Deputy City Attorney for the City and County of San Francisco.
Praise For The Case for a Carbon Tax: Getting Past Our Hang-ups to Effective Climate Policy…
"A must-read for anyone concerned about the wellbeing of their children and grandchildren. An objective, clear-sighted revelation of the
sine qua non
for stabilizing climate and preserving a livable planet."
— James E. Hansen
"Shi-Ling Hsu's book is the most thoughtful and sweeping book on carbon taxation in existence. It is must reading for anyone interested in climate change policy. The book covers every angle, and does so with moderation and wit."
— Kevin Hassett
"Who's afraid of a carbon tax? Not Shi-Ling Hsu, who builds an accessible, well-informed, and undeniably persuasive case for the superiority of carbon taxes over alternative climate change policy instruments. He also delves into individual and group psychology literatures to explain why the superiority of carbon taxes seems not to be grasped by the public and its representatives. Altogether a vital contribution to this, our most important debate."
— Douglas A. Kysar
"Shi-Ling Hsu has written a thought-provoking defense of carbon taxes. His discussion of the policies, politics, and psychology of carbon taxes is highly readable and an extremely useful resource. Although the political winds in North America change from year to year, the challenge of pricing carbon is unavoidable in the long term. This book has staying power."
— Janet E. Milne
"...Hsu's case is thoroughly documented and eloquently made."

— TreeHugger
or
Not Currently Available for Direct Purchase