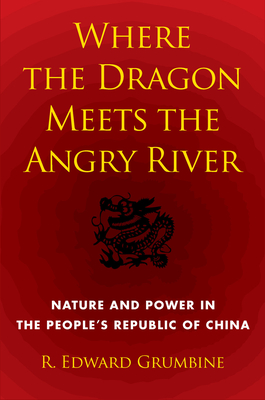 Where the Dragon Meets the Angry River (Hardcover)
Nature and Power in the People's Republic of China
Shearwater, 9781597265515, 256pp.
Publication Date: April 8, 2010
Other Editions of This Title:
MP3 CD (6/28/2016)
Paperback (8/1/2011)
* Individual store prices may vary.
Description
China's meteoric rise to economic powerhouse might be charted with dams. Every river in the country has been tapped to power exploding cities and factories—every river but one. Running through one of the richest natural areas in the world, the Nujiang's raging waters were on the verge of being dammed when a 2004 government moratorium halted construction. Might the Chinese dragon bow to the "Angry River"? Would Beijing put local people and their land ahead of power and profit? Could this remote region actually become a model for sustainable growth?
 
Ed Grumbine traveled to the far corners of China's Yunnan province to find out. He was driven by a single question: could this last fragment of wild nature withstand China's unrelenting development? But as he hiked through deep-cut emerald mountains, backcountry villages, and burgeoning tourist towns, talking with trekking guides, schoolchildren, and rural farmers, he discovered that the problem wasn't as simple as growth versus conservation.
 
In its struggle to "build a well-off society in an all-round way," Beijing juggles a host of competing priorities: health care for impoverished villagers; habitat for threatened tigers; cars for a growing middle class; clean air for all citizens; energy to power new cities; rubber for the global marketplace.
 
Where the Dragon Meets the Angry River is an incisive look at the possible fates of China and the planet. Will the Angry River continue to flow? Will Tibetan girls from subsistence farming families learn to read and write? Can China and the United States come together to lead action on climate change? Far-reaching in its history and scope, this unique book shows us the real-world consequences of conservation and development decisions now being made in Beijing and beyond.
About the Author
R. Edward Grumbine has been involved in integrating conservation science into resource management planning and policy since the 1980s. Currently on leave from Prescott College in Arizona, he is serving as a senior international scientist at the Kunming Institute of Botany, Chinese Academy of Sciences, Yunnan Province. His current work includes dam development impacts in the Mekong River, hydropower issues in the India Himalaya, and defining environmental security on China's western borders. He is the author of numerous academic papers and several books, including Where the Dragon Meets the Angry River: Nature and Power in the People's Republic of China, Ghost Bears: Exploring the Biodiversity Crisis, and editor of Environmental Policy and Biodiversity.
Praise For Where the Dragon Meets the Angry River: Nature and Power in the People's Republic of China…
"There is no other book that comes close to Where the Dragon Meets the Angry River or pulling readers into the wild ride of China's rise. If you want to understand the growing force of nature that is China, Grumbine's account is the best place to begin."
— Paul R. Ehrlich, Bing Professor of Population Studies
"Discussions of China's economic and environmental landscape often leave out a key issue—its people. This important and enjoyable book brings their stories to life. In Grumbine's capable hands, hunters, weavers, and school children stop being statistics and start being individuals you can't help but care about."
— Wade Davis, author of "The Serpent and the Rainbow", "One River", and "River Notes"
"Ed Grumbine spent decades working with federal land managers and teaching classes in the mountains, canyons, and universities of the American west. Some years ago, he took on mastery of the complex biogeography and anthropology of southwest China especially Yunnan (south of the clouds) Province. He made many trips to China (and read exhaustively) and met the right people to get a solid grasp of the dilemmas that the current government is both creating and grappling with. I don't know a better introduction to the problems of China and its environment—its border peoples, impoverished farmers, and threatened plants and animals—than this book right now."
— Gary Snyder, Pulitzer Prize-winning author of "Turtle Island" and "The Practice of the Wild"
"Grumbine's fascinating new book examines the country's burgeoning environmental movement at its source: in the rain forests, mountains, and rivers of Southeast China. Grumbine deftly blends first-hand experience tramping through Chinese rain forests with untiring research to create a unique landscape of China's burgeoning eco-consciousness."
— Sierra
"A must-read for anyone interested in the environmental movement in China. Through his lucid description of the development versus conservation divide on the Nu (Angry) River in Yunnan Province, Grumbine illustrates how, through transforming nature, China's attitudes toward nature are also being transformed."
— Xu Jianchu, Senior Scientist and China Representative, World Agroforestry Centre
"Successful balancing act between solid scientific information and an entertaining travelogue."
— East Asian Science, Technology, and Medicine
"With much information on Beijing's efforts to reach an equitable solution, Grumbine's careful reconsideration of world conservation efforts is an important read for policy makers and grassroots advocates."
— Publishers Weekly
or
Not Currently Available for Direct Purchase