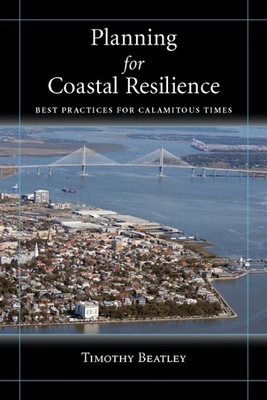 Planning for Coastal Resilience (Paperback)
Best Practices for Calamitous Times
Island Press, 9781597265621, 200pp.
Publication Date: June 29, 2009
Other Editions of This Title:
Hardcover (7/10/2009)
* Individual store prices may vary.
Description
Climate change is predicted to increase the frequency and magnitude of coastal storms around the globe, and the anticipated rise of sea levels will have enormous impact on fragile and vulnerable coastal regions. In the U.S., more than 50% of the population inhabits coastal areas. In Planning for Coastal Resilience, Tim Beatley argues that, in the face of such threats, all future coastal planning and management must reflect a commitment to the concept of resilience. In this timely book, he writes that coastal resilience must become the primary design and planning principle to guide all future development and all future infrastructure decisions.
Resilience, Beatley explains, is a profoundly new way of viewing coastal infrastructure—an approach that values smaller, decentralized kinds of energy, water, and transport more suited to the serious physical conditions coastal communities will likely face. Implicit in the notion is an emphasis on taking steps to build adaptive capacity, to be ready ahead of a crisis or disaster. It is anticipatory, conscious, and intentional in its outlook.
After defining and explaining coastal resilience, Beatley focuses on what it means in practice. Resilience goes beyond reactive steps to prevent or handle a disaster. It takes a holistic approach to what makes a community resilient, including such factors as social capital and sense of place. Beatley provides case studies of five U.S. coastal communities, and "resilience profiles" of six North American communities, to suggest best practices and to propose guidelines for increasing resilience in threatened communities.
About the Author
Timothy Beatley is the Teresa Heinz Professor of Sustainable Communities at the School of Architecture at the University of Virginia, where he has taught for over twenty-five years. His primary teaching and research interests are in environmental planning and policy, with special emphasis on coastal and natural hazards planning, environmental values and ethics, and biodiversity conservation. He has published extensively in these areas, including the following books: Ethical Land Use; Habitat Conservation Planning: Endangered Species and Urban Growth; Natural Hazard Mitigation; and An Introduction to Coastal Zone Management. In recent years much of his research and writing has been focused on the subject of sustainable communities, and creative strategies by which cities and towns can reduce their ecological footprints, while at the same time becoming more livable and equitable places. His books that explore these issues include Biophilic Cities, Resilient Cities, and Green Urbanism (Island Press).
Praise For Planning for Coastal Resilience: Best Practices for Calamitous Times…
"Tim Beatley scouts the frontiers of sustainable development, bringing back examples of progressive practice from the field. He provides a clear-eyed look at emerging efforts by coastal planners struggling to prepare their communities to cope with forecasts of potentially catastrophic impacts of climate change and sea level rise."
— David R. Godschalk
"In this very timely volume, Tim Beatley points out the profound changes that will soon occur along our coasts including sea level rise and increased intensity of storms. In response to these threats, Beatley argues that the principles of coastal resilience afford the way to a sound coastal management future. Case studies and specific examples of resilience approaches make this book a critical addition to the library of anyone concerned with the future of the world's coasts."
— Dr. Orrin H. Pilkey
"This is the first book to span the range of issues from socioeconomic vulnerability to green technologies facing coastal managers and planners. Tim Beatley, one of the foremost coastal hazard planners, provides guidelines, a checklist for action, and an overall vision for planning for coastal resilience and climate change. Coastal communities face unprecedented challenges and a possible calamitous future; this is what this book hopes to prevent."

— Stephen P. Leatherman
or
Not Currently Available for Direct Purchase