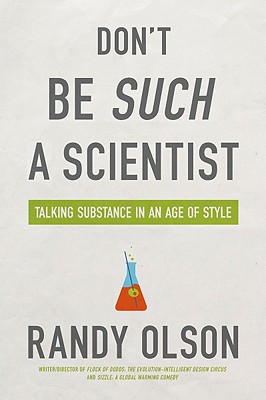 Don't Be Such a Scientist (Paperback)
Talking Substance in an Age of Style
Island Press, 9781597265638, 216pp.
Publication Date: August 28, 2009
* Individual store prices may vary.
Description
"You think too much!  You mother F@$#%&* think too much!  You're nothing but an arrogant, pointy-headed intellectual — I want you out of my classroom and off the premises in five minutes or I'm calling the police and having you arrested for trespassing." — Hollywood acting teacher to Randy Olson, former scientist

After nearly a decade on the defensive, the world of science is about to be restored to its rightful place.  But is the American public really ready for science?  And is the world of science ready for the American public?

Scientists wear ragged clothes, forget to comb their hair, and speak in a language that even they don't understand.  Or so people think. Most scientists don't care how they are perceived, but in our media-dominated age, style points count.

Enter Randy Olson.  Fifteen years ago, Olson bid farewell to the science world and shipped off to Hollywood ready to change the world. With films like Flock of Dodos: The Evolution-Intelligent Design Circus (Tribeca '06, Showtime) and Sizzle: A Global Warming Comedy (Outfest '08), he has tried to bridge the cultural divide that has too often left science on the outside looking in.

Now, in his first book, Olson, with a Harvard Ph.D. and formerly a tenured professor of marine biology at the University of New Hampshire, recounts the lessons from his own hilarious-and at times humiliating-evolution from science professor to Hollywood filmmaker.  In Don't Be Such a Scientist, he shares the secrets of talking substance in an age of style. The key, he argues, is to stay true to the facts while tapping into something more primordial, more irrational, and ultimately more human.

In a book enlivened by a profane acting teacher who made Olson realize that "nobody wants to watch you think," he offers up serious insights and poignant stories. You'll laugh, you may cry, and as a communicator you'll certainly learn the importance of not only knowing how to fulfill, but also how to arouse.
About the Author
Randy Olson earned his Ph.D. at Harvard University and became a professor of marine biology before moving to Hollywood for his second career as a filmmaker. Since obtaining an M.F.A. from the University of Southern California School of Cinema, he has written and directed the critically acclaimed films Flock of Dodos: The Evolution-Intelligent Design Circus (Tribeca, '06, Showtime) and Sizzle: A Global Warming Comedy (Outfest, '08), and co-founded The Shifting Baselines Ocean Media Project, a partnership between scientists and Hollywood to communicate the crisis facing our oceans.
Praise For Don't Be Such a Scientist: Talking Substance in an Age of Style…
"
Don't Be Such a Scientist
is a stinging critique, yet it's also a funny, heart-felt account of one scientist's efforts to make non-scientists care about the natural world."
— Carl Zimmer, author of "Microcosm" and the award-winning science blog The Loom
"If you are a wildlife professional who has ever been faced with hunters not believing your data and questioning your management recommendations, or have had to deal with angry property-rights advocates questioning not only your results but your integrity, then Don't Be Such a Scientist should be on your professional reading list."

— Wildlife Professional
Coverage from NPR
or
Not Currently Available for Direct Purchase