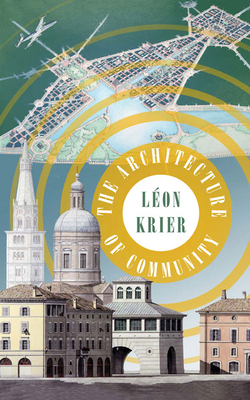 The Architecture of Community (Paperback)
Island Press, 9781597265799, 496pp.
Publication Date: March 17, 2011
Other Editions of This Title:
Hardcover (5/8/2009)
* Individual store prices may vary.
Description
Leon Krier is one of the best-known—and most provocative—architects and urban theoreticians in the world. Until now, however, his ideas have circulated mostly among a professional audience of architects, city planners, and academics. In The Architecture of Community, Krier has reconsidered and expanded writing from his 1998 book Architecture: Choice or Fate. Here he refines and updates his thinking on the making of sustainable, humane, and attractive villages, towns, and cities. The book includes drawings, diagrams, and photographs of his built works, which have not been widely seen until now.
 
With three new chapters, The Architecture of Community provides a contemporary road map for designing or completing today's fragmented communities. Illustrated throughout with Krier's original drawings, The Architecture of Community explains his theories on classical and vernacular urbanism and architecture, while providing practical design guidelines for creating livable towns. 
 
The book contains descriptions and images of the author's built and unbuilt projects, including the Krier House and Tower in Seaside, Florida, as well as the town of Poundbury in England. Commissioned by the Prince of Wales in 1988, Krier's design for Poundbury in Dorset has become a reference model for ecological planning and building that can meet contemporary needs.
About the Author
Born in 1946, Leon Krier is one of the most influential architects teaching and writing today. He has taught architecture and urbanism at the Royal College of Arts in London, and in the United States at Princeton University, Yale University, the University of Notre Dame, and the University of Virginia. He has worked extensively in Europe and North America and is currently consulting on projects in Guatemala, Romania, England, Belgium, Italy, France, and the United States. In 2003, he received the inaugural Richard Driehaus Prize for Classical Architecture.
Praise For The Architecture of Community…
"More than ever Krier has every right to claim our attention. We need him, in fact, as never before. He presents us with the lessons, if we would but take them, that come out of rediscovery. He celebrates the values that are knowable."
— Robert A. M. Stern
"This book is Mr. Krier's gift to the coming generations-who, otherwise, have been left saddled by us with little more than extravagant debts in every way you could imagine. They are going to have to inhabit what remains of this planet, along with whatever remains of its resources, when we are gone, and Mr. Krier's heroic, often lonely labors, have produced this indispensable beacon of principle and methodology to light their way home."
— James Howard Kunstler
"This is the compendium of common sense that has flowed from Leon's pen for over forty years. From first to last, none of it has aged; and none of it will age. It is the one indispensable book on urbanism."
— Andres Duany
"Long the inspiration of new urbanists, Léon Krier's work, now comprehensively gathered in this book, is still the best guide for designing buildings and communities."
— Elizabeth Plater-Zyberk
"Leon Krier's The Architecture of Community is a primer on the fundamentals of the language of architecture and urbanism...Krier's childlike drawings, distilled captions and hornbook like aphorisms make this the perfect textbook with which to begin reclaiming our lost literacy."
— Traditional Building
"One of the most influential architects and urban theoreticians of the modern age, Krier has a clear idea of what's wrong with many of our urban development patterns—and he has a similarly clear idea about how those problems can be avoided in the future. His book is a collection of suggestions and proposals that make up a general theory for how to create traditional cities, towns and communities that are attractive, livable, and (hopefully) truly loved."
— Planetizen
"This book provides detailed drawings and images to illustrate the author's theories on classical urbanism and architecture, while providing practical guidelines for creating attractive, livable towns. The book also outlines a diagnosis and a cure, a critique and a project, and presents a common-sense approach to urban planning."
— Abstracts of Public Administration