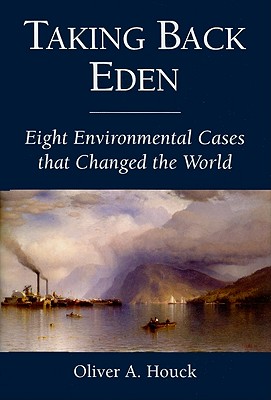 Taking Back Eden (Hardcover)
Eight Environmental Cases that Changed the World
Island Press, 9781597266475, 256pp.
Publication Date: November 10, 2009
Other Editions of This Title:
Paperback (3/11/2011)
* Individual store prices may vary.
Description
Taking Back Eden is a set of case studies of environmental lawsuits brought in eight countries around the world, including the U.S, beginning in the 1960s. The book conveys what is in fact a revolution in the field of law: ordinary citizens (and lawyers) using their standing as citizens in challenging corporate practices and government policies to change not just the way the environment is defended but the way that the public interest is recognized in law. Oliver Houck, a well-known environmental attorney, professor of law, and extraordinary storyteller, vividly depicts the places protected, as well as the litigants who pursued the cases, their strategies, and the judges and other government officials who ruled on them.
This book will appeal to upperclass undergraduates, graduate students, and to all citizens interested in protecting the environment.
About the Author
Oliver Houck is professor of law at Tulane University, where he has received several teaching awards. In 2005, he received the Distinguished Achievement Award from the Environmental Section of the American Bar Association. He is author of a book on the Clean Water Act, editor of Environmental Law Stories, and wrote the foreword to Biodiversity and the Law.
Praise For Taking Back Eden: Eight Environmental Cases that Changed the World…
"Oliver Houck is a most unusual law professor: he writes with wit and even humor but also great brilliance and compassion. Read him and learn."
— Mark Hertsgaard
"This book could only have been written by environmental law's greatest story teller—a synthesis of opportunity, courage, slapdash enthusiasm—a relentless pursuit of good law by well motivated people."
— William H. Rodgers, Jr.
"Who would have guessed that one of the most fascinating books of the year would be a discussion of environmental lawsuits from around the world? Oliver Houck uses this scaffolding to offer a stimulating flood of insights about cultures as diverse as Russia, Japan, and India, explaining how a handful of landmark cases have fundamentally changed the way the nations operate. As a bonus, Taking Back Eden is gracefully written, and it's stocked with some of the most interesting characters you will find in non-fiction."
— Denis Hayes
"A great read, and a highly instructive one. No one but Professor Houck could tell so well this story of environmental litigation's path across the globe. Individually, these turning points in environmental history are fascinating and inspiring; collectively, they reveal patterns of great significance."
— James Gustave Speth
"Oliver Houck, lawyer, teacher and writer, is graced with poetic imagination, a love of history, and a knack for winning environmental lawsuits. These inspirational stories show us how ordinary citizens and their lawyers can change the world."
— Bruce Babbitt
"This modest volume poignantly reminds the reader that environmental policy change is achieved not merely by amassing scientific evidence or lobbying for new laws, but by protest that eventually finds its way into courts of law...very useful and readable volume... recommended."
—
CHOICE
"Worthwhile read."
—
Mother Nature Network
"Interesting and well-written book."
—
Foreign Affairs
"Taking Back Eden is a must read for any who want to best understand the world of law and nature."
—
Midwest Book Review
or
Not Currently Available for Direct Purchase