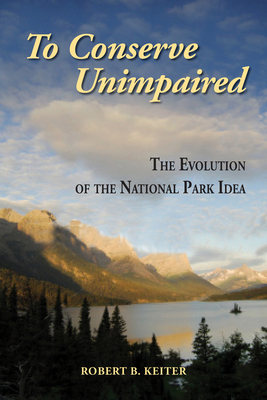 To Conserve Unimpaired (Hardcover)
The Evolution of the National Park Idea
Island Press, 9781597266598, 368pp.
Publication Date: April 9, 2013
Other Editions of This Title:
Paperback (4/9/2013)
* Individual store prices may vary.
Description
When the national park system was first established in 1916, the goal "to conserve unimpaired" seemed straightforward. But Robert Keiter argues that parks have always served a variety of competing purposes, from wildlife protection and scientific discovery to tourism and commercial development. In this trenchant analysis, he explains how parks must be managed more effectively to meet increasing demands in the face of climate, environmental, and demographic changes. 
Taking a topical approach, Keiter traces the history of the national park idea from its inception to its uncertain future. Thematic chapters explore our changing conceptions of the parks as wilderness sanctuaries, playgrounds, educational facilities, and more. He also examines key controversies that have shaped the parks and our perception of them. 
Ultimately, Keiter demonstrates that parks cannot be treated as special islands, but must be managed as the critical cores of larger ecosystems. Only when the National Park Service works with surrounding areas can the parks meet critical habitat, large-scale connectivity, clean air and water needs, and also provide sanctuaries where people can experience nature. Today's mandate must remain to conserve unimpaired—but Keiter shows how the national park idea can and must go much farther. 
Professionals, students, and scholars with an interest in environmental history, national parks, and federal land management, as well as scientists and managers working on adaptation to climate change should find the book useful and inspiring.
About the Author
Robert B. Keiter is the Wallace Stegner Professor of Law, University Distinguished Professor, and founding Director of the Wallace Stegner Center for Land, Resources, and the Environment at the University of Utah S.J. Quinney College of Law. He lives in Salt Lake City, Utah.
Praise For To Conserve Unimpaired: The Evolution of the National Park Idea…
"Keiter examines these ideas in a well-researched, academic treatment of the national park system."
—
Deseret News
"an unvarnished view of 'America's best idea'"
—
High Country News
"...tightly-written...The range of topics that Keiter covers is amazing...I highly recommend this book..."
—
Ranger
"To Conserve Unimpaired is a valuable addition to the personal libraries of those who follow the course of the national park movement, one that broadens our insights into how and why the parks are managed the way they are, and which points to the threats that loom in their future."
—
National Parks Traveler
"Keiter persuasively argues that 'the national park idea is actually not a single idea, but rather an amalgam of ideas that have evolved over time...'"
—
Conservation Biology
"A useful and thought-provoking read."
— National Parks Conservation Association, Southwest Region
"Touching on heritage, new strategies for conservation being developed and much more, To Conserve Unimpaired is a strong addition [to] any environmental studies and law collection, enthusiastically recommended."
—
Midwest Book Review
"This work is valuable in providing an understanding of national park and conservation history and in informing future debates about the values, roles, and expectations of America's national park system."
—
CHOICE
"If you care about the future of national parks, Keiter's lecture and book will make you appreciate the miracles that are Yellowstone and Grand Teton."
—
Jackson Hole News & Guide
"...To Conserve Unimpaired offers a series of overlapping studies of what we today may regard as the central issues of our own participation in the park system's evolution."
— George Wright Forum
"This book is the best and most comprehensive coverage of the tension between protecting national park resources and accommodating mass tourism. Keiter also performs an essential service in bringing the park literature up to date, with chapters on Native Americans, ecosystem restoration, and the challenge of climate change."
— Joseph L. Sax
"To Conserve Unimpaired is a comprehensive overview of national park system laws and policies written by an outstanding academic. What gives the book its realistic grounding is the insight provided by the author's nonprofit park experience that fully informs and illuminates the realities of contemporary park management."
— Michael V. Finley
"Keiter offers a clear understanding of the origin of national parks and controversies that continue through today. How should parks balance wilderness values, enjoyment of visitors, science, and education? Making the case that parks are a central tenet of conservation, To Conserve Unimpaired offers key insights into today's challenges to sustain the value of national parks into the future."
— Jodi Hilty
or
Not Currently Available for Direct Purchase