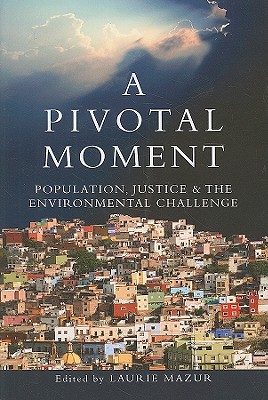 A Pivotal Moment (Paperback)
Population, Justice, and the Environmental Challenge
Island Press, 9781597266628, 432pp.
Publication Date: October 16, 2009
Other Editions of This Title:
Hardcover (10/16/2009)
* Individual store prices may vary.
Description
With contributions by leading demographers, environmentalists, and reproductive health advocates, A Pivotal Moment offers a new perspective on the complex connection between population dynamics and environmental quality. It presents the latest research on the relationship between population growth and climate change, ecosystem health, and other environmental issues. It surveys the new demographic landscape—in which population growth rates have fallen, but human numbers continue to increase. It looks back at the lessons of the last half century while looking forward to population policies that are sustainable and just.
A Pivotal Moment embraces the concept of "population justice," which holds that inequality is a root cause of both rapid population growth and environmental degradation. By addressing inequality—both gender and economic—we can reduce growth rates and build a sustainable future.
About the Author
Laurie Mazur is an independent writer and consultant to nonprofit organizations. She is the editor of
Beyond the Numbers: A Reader on Population, Consumption, and the Environment
(Island Press, 1994) and co-author of
Marketing Madness: A Survival Guide for a Consumer Society
(Westview, 1995).
Sandra Postel directs the independent Global Water Policy Project and lectures, writes and consults on global water issues. In 2010 she was appointed Freshwater Fellow of the National Geographic Society. Sandra is co-creator of Change the Course, the national water stewardship initiative awarded the 2017 US Water Prize for restoring billions of gallons of water to depleted rivers and wetlands. 

During 2000-2008, Sandra was visiting senior lecturer in Environmental Studies at Mount Holyoke College, and late in that term directed the college's Center for the Environment. From 1988 until 1994, she was vice president for research at the Worldwatch Institute. Sandra is a Pew Scholar in Conservation and the Environment, and has been named one of the Scientific American 50, an award recognizing contributions to science and technology.

A leading authority and prolific author on international water issues, Sandra has been hailed for her "inspiring, innovative and practical approach" to promoting the preservation and sustainable use of freshwater. She is author of Replenish: The Virtuous Cycle of Water and Prosperity (Island Press, 2017), Pillar of Sand: Can the Irrigation Miracle Last? and Last Oasis: Facing Water Scarcity, chosen by Choice magazine as a 1993 Outstanding Academic Book. Last Oasis appears in eight languages and was the basis for a 1997 PBS documentary. Sandra's article "Troubled Waters" was selected for inclusion in the 2001 edition of Best American Science and Nature Writing. She is also co-author (with Brian Richter) of Rivers for Life: Managing Water for People and Nature (Island Press 2003). Sandra co-founded and regularly contributes to National Geographic's freshwater blog, Water Currents.

Sandra has authored more than 100 articles for popular and scholarly publications, including Science, Natural History, Scientific American, Foreign Policy, Ecological Applications, Technology Review, Environmental Science and Technology, International Wildlife, and Water Alternatives. She has written some 20 op-ed features that have appeared in more than 30 newspapers in the United States and abroad, including the New York Times, the L.A. Times, and the Washington Post. A frequent conference speaker and lecturer, she has also served as commentator on CNN's Futurewatch, addressed the European Parliament on environmental issues, and appeared on CBS Sunday Morning, ABC's Nightline, and NPR's Science Friday. She also appears in the BBC's Planet Earth, Leonardo DiCaprio's The 11th Hour, and the National Geographic Channel's Breakthrough series.

Sandra is Water Fellow of the Post Carbon Institute, and has served as advisor to the Division on Earth and Life Studies of the U.S. National Research Council, as well as to American Rivers. She has served on the Board of Directors of the International Water Resources Association and on the editorial boards of Ecosystems, Water Policy, and Green Futures. She received a B.A. (summa cum laude) in geology and political science at Wittenberg University and an M.E.M. with emphasis on resource economics and policy at Duke University. Sandra has been awarded several honorary Doctor of Science degrees, as well as the Duke University School of Environment's Distinguished Alumni Award.
Praise For A Pivotal Moment: Population, Justice, and the Environmental Challenge…
"Here's the book on population we've been waiting for—not a nativist screed that lays the blame for our environmental woes on overbreeding others, but a clearheaded and smart look at the ways that justice, anti-materialism, and women's rights can help limit both our numbers and their impact."
— Bill McKibben
"This book, with chapters by world-renowned experts, should be recommended reading for national and global leaders who seek to meet the environmental and economic development challenges of the 21st century. It provides a compelling, evidence-based case to support renewed attention to reproductive health and rights as a critical part of the solution to build a better and more sustainable future for all."
— Geeta Rao Gupta
"Finally, a book that maps the complex connections among climate change, resource depletion, globalization, inequity and overconsumption, then focuses in on the ways that population growth exacerbates all of them, but also results from them. No simple-minded solutions are offered in this revelatory work; but an effective formula for reducing population impacts by strengthening women's rights, roles and economic opportunities. This book should be mandatory reading not only in academia, but for all public policy advocates seeking sustainable pathways for the future."
— Jerry Mander
"A Pivotal Moment demonstrates the possibility of building a sustainable, more equitable future... People count and numbers matter—and this book is a classic call to action we cannot afford to ignore if we care about the well being of current and future generations."
— Dr. Gill Greer
or
Not Currently Available for Direct Purchase