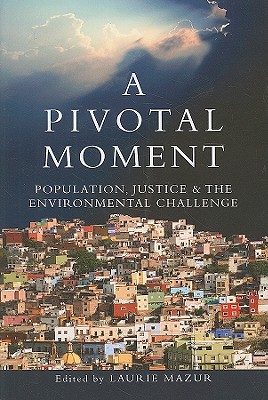 A Pivotal Moment
Population, Justice, and the Environmental Challenge
Paperback

* Individual store prices may vary.
Other Editions of This Title:
Hardcover (10/16/2009)
Description
With contributions by leading demographers, environmentalists, and reproductive health advocates, A Pivotal Moment offers a new perspective on the complex connection between population dynamics and environmental quality. It presents the latest research on the relationship between population growth and climate change, ecosystem health, and other environmental issues. It surveys the new demographic landscape—in which population growth rates have fallen, but human numbers continue to increase. It looks back at the lessons of the last half century while looking forward to population policies that are sustainable and just.  A Pivotal Moment embraces the concept of "population justice," which holds that inequality is a root cause of both rapid population growth and environmental degradation. By addressing inequality—both gender and economic—we can reduce growth rates and build a sustainable future.
Praise For A Pivotal Moment: Population, Justice, and the Environmental Challenge…
"Here's the book on population we've been waiting for—not a nativist screed that lays the blame for our environmental woes on overbreeding others, but a clearheaded and smart look at the ways that justice, anti-materialism, and women's rights can help limit both our numbers and their impact."
— Bill McKibben

"This book, with chapters by world-renowned experts, should be recommended reading for national and global leaders who seek to meet the environmental and economic development challenges of the 21st century. It provides a compelling, evidence-based case to support renewed attention to reproductive health and rights as a critical part of the solution to build a better and more sustainable future for all."
— Geeta Rao Gupta

"Finally, a book that maps the complex connections among climate change, resource depletion, globalization, inequity and overconsumption, then focuses in on the ways that population growth exacerbates all of them, but also results from them. No simple-minded solutions are offered in this revelatory work; but an effective formula for reducing population impacts by strengthening women's rights, roles and economic opportunities. This book should be mandatory reading not only in academia, but for all public policy advocates seeking sustainable pathways for the future."
— Jerry Mander

"A Pivotal Moment demonstrates the possibility of building a sustainable, more equitable future... People count and numbers matter—and this book is a classic call to action we cannot afford to ignore if we care about the well being of current and future generations."
— Dr. Gill Greer
Island Press, 9781597266628, 432pp.
Publication Date: October 16, 2009
About the Author
Editor Laurie Mazur is an independent writer and consultant to nonprofit organizations. She is the editor of Beyond the Numbers: A Reader on Population, Consumption, and the Environment (Island Press, 1994) and co-author of Marketing Madness: A Survival Guide for a Consumer Society (Westview, 1995).
or
Not Currently Available for Direct Purchase