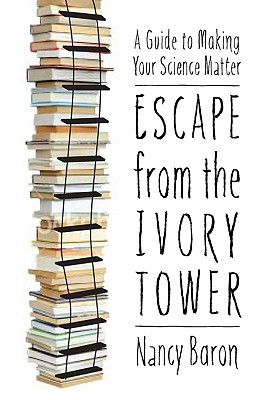 Escape from the Ivory Tower
A Guide to Making Your Science Matter
Paperback

* Individual store prices may vary.
Other Editions of This Title:
Hardcover (8/13/2010)
Description
Most scientists and researchers aren't prepared to talk to the press or to policymakers--or to deal with backlash. Many researchers have the horror stories to prove it. What's clear, according to Nancy Baron, is that scientists, journalists and public policymakers come from different cultures. They follow different sets of rules, pursue different goals, and speak their own language. To effectively reach journalists and public officials, scientists need to learn new skills and rules of engagement. No matter what your specialty, the keys to success are clear thinking, knowing what you want to say, understanding your audience, and using everyday language to get your main points across. In this practical and entertaining guide to communicating science, Baron explains how to engage your audience and explain why a particular finding matters. She explores how to ace your interview, promote a paper, enter the political fray, and use new media to connect with your audience. The book includes advice from journalists, decision makers, new media experts, bloggers and some of the thousands of scientists who have participated in her communication workshops. Many of the researchers she has worked with have gone on to become well-known spokespeople for science-related issues. Baron and her protegees describe the risks and rewards of "speaking up," how to deal with criticism, and the link between communications and leadership. The final chapter, 'Leading the Way' offers guidance to scientists who want to become agents of change and make your science matter. Whether you are an absolute beginner or a seasoned veteran looking to hone your skills, Escape From the Ivory Tower can help make your science understood, appreciated and perhaps acted upon.
Island Press, 9781597266642, 272pp.
Publication Date: August 20, 2010
About the Author
Nancy Baron is Outreach Director of COMPASS, the Communications Partnership for Science and the Sea. She designed and leads the communications trainings for the Aldo Leopold Leadership Program. She and her COMPASS team offer a wide range of workshops for academic scientists as well as scientists who work for the government and non-governmental organizations in North America and abroad. Her experience as a Canadian National Parks biologist and science writer inspired her to help bridge the gaps among scientists, journalists, and policymakers. An ardent naturalist, Baron has led natural history expeditions around the world. She wrote the popular introductory field guide, Birds of the Pacific Northwest, as a way to help people engage with the natural world.