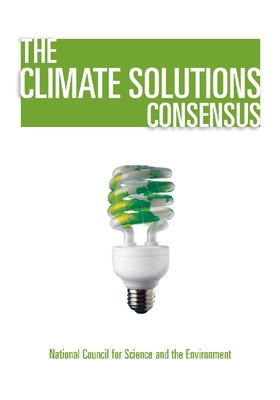 The Climate Solutions Consensus (Paperback)
What We Know and What To Do About It
Island Press, 9781597266741, 336pp.
Publication Date: December 1, 2009
Other Editions of This Title:
Hardcover (12/1/2009)
* Individual store prices may vary.
Description
In 2007, the Intergovernmental Panel on Climate Change shared the 2007 Nobel Peace Prize (with former Vice President Al Gore) for its reporting on the human causes of climate change. In 2008, the National Council for Science and the Environment reported that the acceleration of climate change is already faster than the IPCC projected only a year earlier. How we deal with the rapid environmental changes, and the human forces that are driving these changes, will be among the defining issues of our generation.
 
Climate Solutions Consensus presents an agenda for America. It is the first major consensus statement by the nation's leading scientists, and it provides specific recommendations for federal policies, for state and local governments, for businesses, and for colleges and universities that are preparing future generations who will be dealing with a radically changed climate. The book draws upon the recommendations developed by more than 1200 scientists, educators and decision makers who participated in the National Council for Science and the Environment's 8th National Conference on Science, Policy and the Environment.
 
After presenting a lucid narrative of the science behind climate change and its solutions, Climate Solutions Consensus presents 35 practical, results-oriented approaches for minimizing climate change and its impacts. It clearly spells out options for technological, societal, and policy actions. And it deals head-on with controversial topics, including nuclear energy, ocean fertilization and atmospheric geo-engineering.
 
One of the book's key conclusions is that climate solutions are about much more than energy sources. They involve re-examining everything people do with an eye toward minimizing climate impacts. This includes our eating habits, consumption patterns, transportation, building and housing, forestry, land use, education, and more. According to these scientists, the time to act is now. With clarity and urgency, they tell us exactly what needs to be done to start reversing the driving factors behind climate change, minimizing their consequences, and adapting to what is beyond our power to stop.
About the Author
The National Council for Science and the Environment (NCSE) is a nonpartisan organization working to improve the scientific basis of environmental decisionmaking.
David E. Blockstein is senior scientist with NCSE, and served as its first executive director.
Leo Wiegman is founder of E to the fourth, an environmental communications firm.

Praise For The Climate Solutions Consensus: What We Know and What To Do About It…
"Explains the urgency of climate change and what must be done to avert the worst better than anytrhing else I've read... essential reading not just by public officials, but by the widest public possible"
— David Orr
"Climate change is a serious symptom of a de facto systems design failure that we must address in a systememic, collaborative fashion. In The Climate Solutions Consensus, David Blockstein and Leo Wiegman succinctly outline the scientific consensus on gloabal climate disruption, why it matters to all societal stakeholders, and immediate actions we can take to address this defining issue of our time."
— Anthony E. Cortese
"The Climate Solutions Consensus will be of value to all—for the public it offers a pathway towards improved quality of life; for policy makers it provides technically feasible and economically beneficial solutions; for educators it synthesizes both the information and motivation needed for social change; and for researchers it frames disciplinary knowledge in the interdisciplinary context of long-term prosperity and security."
— Stephanie Pfirman
or
Not Currently Available for Direct Purchase