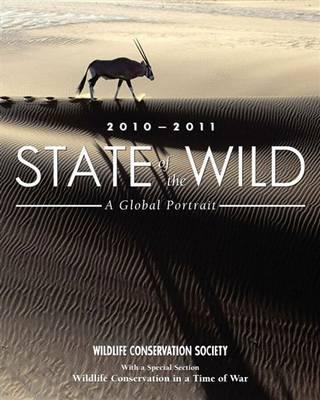 State of the Wild 2010-2011 (Hardcover)
A Global Portrait
Island Press, 9781597266772, 264pp.
Publication Date: February 2, 2010
* Individual store prices may vary.
Description
State of the Wild is a biennial series that brings together international conservation experts and writers to discuss emerging issues in the conservation of wildlife and wild places.

In addition to evocative writings and a fascinating tour of conservation news highlights and vital statistics from around the world, this 2010-2011 edition examines how destabilization and war affect wildlife and wild places.
State of the Wild's accessible approach educates a wide range of audiences while at the same time presenting leading-edge scientific overviews of hot topics in conservation. Uniquely structured with magazine-like features up front, conservation news in the middle, and essays from eminent authors and experienced scientists throughout, this landmark series is an essential addition to any environmental bookshelf.

About the Author
Founded in 1895, the Wildlife Conservation Society saves wildlife and wild places through science, international conservation, education, and the management of the world's largest system of urban wildlife parks, led by the flagship Bronx Zoo in New York City. Together these activities change attitudes toward nature and help people imagine wildlife and humans living in harmony. WCS is committed to this mission because it is essential to the integrity of life on earth.

Praise For State of the Wild 2010-2011: A Global Portrait…
"This unique publication blends poetic awe for nature's beauty with rigorous analysis of the most difficult challenges conservation faces. Discussions range from new discoveries in biodiversity science, to profound reflection on conservation in times and areas of war, to novel field techniques and approaches. This stunning book is informative and inspiring. Every conservationist should read it."
— Luigi Boitani, University of Rome, Italy and President, Society for Conservation Biology
"In times of war, it is easy to forget about the indispensible role natural resources play in supporting human livelihoods. This book reminds us of the toll war takes on wildlife and the challenges of conservation in conflict zones. It is an excellent summary of the latest conservation science and draws on important case studies of both success and failure. A source of inspiration for practitioners and policy makers alike, this volume makes an important and timely contribution to the global body of knowledge on the state of the wild."
— David Jensen , United Nations Environment Programme
"This edition of the State of the Wild, with its emphasis on conservation in a time of war, puts to bed the misguided notion that natural resources are luxury items to be conserved once fighting has stopped and stability returned. Chapters in the special section uncover the diverse roles conservation plays during conflict, including key contributions to ending conflict, supporting livelihoods, and ultimately building peace. While such contributions are not easy to make, nor their results guaranteed, they offer a means to minimize the threats and grab the opportunity."

— Geoffrey Dabelko, Director, Environmental Change and Security Program
or
Not Currently Available for Direct Purchase