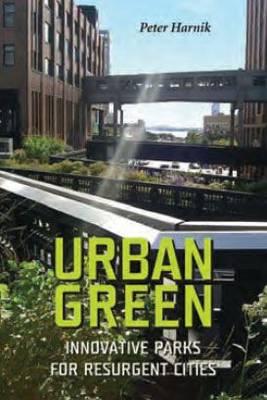 Urban Green (Hardcover)
Innovative Parks for Resurgent Cities
Island Press, 9781597266796, 208pp.
Publication Date: April 15, 2010
* Individual store prices may vary.
Description
For years American urban parks fell into decay due to disinvestment, but as cities began to rebound—and evidence of the economic, cultural, and health benefits of parks grew— investment in urban parks swelled. The U.S. Conference of Mayors recently cited meeting the growing demand for parks and open space as one of the biggest challenges for urban leaders today. It is now widely agreed that the U.S. needs an ambitious and creative plan to increase urban parklands.
Urban Green explores new and innovative ways for "built out" cities to add much-needed parks. Peter Harnik first explores the question of why urban parkland is needed and then looks at ways to determine how much is possible and where park investment should go. When presenting the ideas and examples for parkland, he also recommends political practices that help create parks.
The book offers many practical solutions, from reusing the land under defunct factories to sharing schoolyards, from building trails on abandoned tracks to planting community gardens, from decking parks over highways to allowing more activities in cemeteries, from eliminating parking lots to uncovering buried streams, and more. No strategy alone is perfect, and each has its own set of realities. But collectively they suggest a path toward making modern cities more beautiful, more sociable, more fun, more ecologically sound, and more successful.
About the Author
Peter Harnik is director of the Center for City Park Excellence at the Trust for Public Land and author of Inside City Parks, a book about the park and recreation systems of the 25 largest U.S. cities. In 2003, his research resulted in The Excellent City Park System: What Makes it Great and How to Get There. Previous to that, he was co-founder of the Rails-to-Trails Conservancy.
Praise For Urban Green: Innovative Parks for Resurgent Cities…
"Urban Green is part reference manual, part guidebook and part inspiration. It provides an unprecedented look at the re-greening of urban America. From rail trails to rooftops to landfills, Peter Harnik shows us how to find and fund green spaces for the next century."
— Edward T. McMahon, Charles E. Fraser Chair for Sustainable Development
"Urban Green is a testament to the progress of the livable communities movement. While others cringe at urban eyesores—underutilized parking lots, vacant commercial areas, and abandoned rail lines—Harnik sees new green spaces for residents to stroll, garden, play, socialize, and enjoy their natural heritage. Best of all, he offers practical advice on politics and funding, providing community leaders with tools for turning their vision into reality."
— Congressman Earl Blumenauer, Oregon third congressional district
"Peter Harnik …reveals how the push to preserve and promote our nation's urban parks is one of the most exciting frontiers in urban planning, dramatically changing the way we think about what is possible in a 21st-century city."
— Michael Bloomberg, Mayor of New York City, from his foreword
"Specific, succinct, well-written, full of innovative ideas from all over—Peter Harnik's Urban Green: Innovative Parks for Resurgent Cities is all one could ask of a practical planning book."
"With this timely and valuable book, Harnik has done a great service. Public-sector officials, planners, and designers will find it useful, but so will community activists, neighborhood groups, and anybody else who uses an urban park. Which, in a densely populated city, is just about everyone."
"Harnik conveys in pragmatic, no-nonsense terms what it takes to make the outdoor rooms of a city serve the true needs of their users. Fundamental questions are asked about which kinds of parks to build, how much to build, for whom to build, and where the parks should go. The answers imply new or renewed solutions and new ways of defining the very term parks."
or
Not Currently Available for Direct Purchase