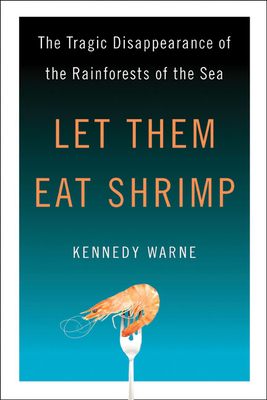 Let Them Eat Shrimp (Hardcover)
The Tragic Disappearance of the Rainforests of the Sea
Island Press, 9781597266833, 200pp.
Publication Date: February 23, 2011
* Individual store prices may vary.
Description
What's the connection between a platter of jumbo shrimp at your local restaurant and murdered fishermen in Honduras, impoverished women in Ecuador, and disastrous hurricanes along America's Gulf coast? Mangroves. Many people have never heard of these salt-water forests, but for those who depend on their riches, mangroves are indispensable. They are natural storm barriers, home to innumerable exotic creatures—from crabeating vipers to man-eating tigers—and provide food and livelihoods to millions of coastal dwellers. Now they are being destroyed to make way for shrimp farming and other coastal development. For those who stand in the way of these industries, the consequences can be deadly. 
 
In Let Them Eat Shrimp, Kennedy Warne takes readers into the muddy battle zone that is the mangrove forest. A tangle of snaking roots and twisted trunks, mangroves are often dismissed as foul wastelands. In fact, they are supermarkets of the sea, providing shellfish, crabs, honey, timber, and charcoal to coastal communities from Florida to South America to New Zealand. Generations have built their lives around mangroves and consider these swamps sacred. 
 
To shrimp farmers and land developers, mangroves simply represent a good investment. The tidal land on which they stand often has no title, so with a nod and wink from a compliant official, it can be turned from a public resource to a private possession. The forests are bulldozed, their traditional users dispossessed. 
 
The true price of shrimp farming and other coastal development has gone largely unheralded in the U.S. media. A longtime journalist, Warne now captures the insatiability of these industries and the magic of the mangroves. His vivid account will make every reader pause before ordering the shrimp.
About the Author
Kennedy Warne is author of Roads Less Travelled and founding editor of New Zealand Geographic. His articles have appeared in National Geographic, Smithsonian, GEO, and other publications.
Praise For Let Them Eat Shrimp: The Tragic Disappearance of the Rainforests of the Sea…
"Kennedy Warne tells it straight: mangroves are under threat. In his passionate travelogue, he covers everything from vandal monkeys to life on the shores of the Red Sea, chronicling the global fight to save the rainforests of the sea. Let Them Eat Shrimp is a cocktail worth savoring."
— Raj Patel, author of "The Value of Nothing"
"Let Them Eat Shrimp lays bare the hidden consequences of everyday consumption, showing how Americans' eating habits are changing lives around the globe. Warne's narrative has staying power, but the worlds he captures are disappearing in the blink of an eye."
— Wade Davis, author of "The Serpent and the Rainbow" and "One River"
"An utterly fascinating book! The destruction of wondrous places doesn't make for a happy story, but in Warne's passionate telling, it's one you won't be able to put down. Instead, you'll come away from this excellent read determined to visit a mangrove forest and to say no thanks to your next plate of farmed shrimp."
— Deborah Madison, author of "Vegetarian Cooking for Everyone" and "Local Flavors"
"Kennedy Warne is a 21st century Lorax—he speaks not only for the mangrove trees but also for the disenfranchised, disempowered, and betrayed people who depend on mangrove forests for their lives and their dignity. Let Them Eat Shrimp raises a clarion call to action against those who continue to put profits before people and consumption before reverence."
— Aaron M. Ellison, Senior Ecologist and Senior Research Fellow, Harvard University
"Warne's writing is artistic (shrimp and mangroves are 'like a pair of orbiting stars, though one shines at the expense of the other') and the stories he tells are deeply personal, featuring a good blend of the scary (commercial shrimping will destroy the mangroves!) and the hopeful (but we can prevent it!), the mark of a high-quality conservation treatise."
"Based in New Zealand, Warne is a journalist and founding editor of New Zealand Geographic. He offers an extended narrative describing what he learned as he investigated the profound importance of mangrove forests to the ecological balance of the areas near the ocean where they are located, and to the people who depend on that ecosystem. The story involves the impact of shrimp aquaculture and massive coastal development—both of which devastate these 'rainforests of the sea' and disable their mitigation of climate change through carbon storage as well as the protection they give coastlines in the event of tsunamis."
"Rainforests of the land evoke a lot more international concern, and Warne includes in the last chapter of his vivid and pithy book a vignette of a scientist glooming about the undeservedly low public profile of mangroves. Warne's book sets out to remedy this, but it's far from mere lecturing. Warne, founding editor of New Zealand Geographic, visits mangroves around the world and lets what he sees and the people he meets make their own case. The book is a travelog with attitude."
"Telling the stories of people displaced by intensive shrimp farms in Asia, Africa, Australia, and the Americas, Warne provides evocative tales of economic disparities and disruption of local tradition."
"If the tragedy of stories of lives and livelihoods ruined by mangrove depletion haven't hit home by this point, the idea of $10,000 being wasted with every hectare of mangrove ripped up and turned into boundless shrimp farms should."
"Kennedy Warne's effort to 'set the record straight' with respect to mangroves comes at a critical time and at an appropriate level to catch the attention of stakeholders, land use planners, and policy makers around the world."

or
Not Currently Available for Direct Purchase