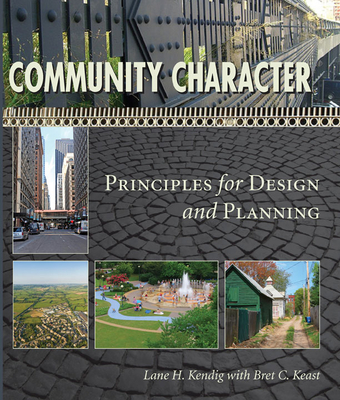 Community Character
Principles for Design and Planning
Hardcover

* Individual store prices may vary.
Other Editions of This Title:
Paperback (7/15/2010)
Description
Community Character provides a design-oriented system for planning and zoning communities but accounts for how people who participate in a community live, work, and shop there. The relationships that Lane Kendig defines here reflect the complexity of the interaction of the built environment with its social and economic uses, taking into account the diverse desires of municipalities and citizens. Among the many classifications for a community's "character" are its relationship to other communities, its size and the resulting social and economic characteristics.
 
According to Kendig, most comprehensive plans and zoning regulations are based entirely on density and land use, neither of which effectively or consistently measures character or quality of development. As Kendig shows, there is a wide range of measures that define character and these vary with the type of character a community desires to create. Taking a much more comprehensive view, this book offers "community character" as a real-world framework for planning for communities of all kinds and sizes.
 
A companion book, A Practical Guide to Planning with Community Character, provides a detailed explanation of applying community character in a comprehensive plan, with chapters on designing urban, sub-urban, and rural character types, using character in comprehensive plans, and strategies for addressing characteristic challenges of planning and zoning in the 21st century.
Praise For Community Character: Principles for Design and Planning…
"Lane Kendig uses his half century of experience to show planners, and everyone else who wants a great place to live, how to identify and measure community character as the value-neutral first step in achieving the desired built and natural environment. This work will be an enduring classic in the field of planning theory and practice."
— Dwight Merriam, FAICP, partner, Robinson & Cole

"In this crisp primer on the use of character in community design, Lane Kendig lays out a clear framework of principles and terms for measuring and understanding what makes a place rural, suburban, or urban. Drawing on his extensive experience, he makes a strong case for replacing density and land use with community character as the primary basis for planning and development regulation."
— David R. Godschalk, Planning Professor Emeritus, University of North Carolina at Chapel Hill

"The desire to keep 'small town character' is almost universal in the U.S. Yet, what could be more challenging? Lane Kendig's engaging book Community Character is much more than a starting point. It offers citizens and planners an accessible framework for creating place-specific strategies."
— Mary Means, Director of Community Initiatives, Goody Clancy

"Though the breadth of design lexicon may seem intimidating at first, they are explained with everyday language and accompanied by clear photos and diagrams. Such duty and care is extremely valuable in that it can really strengthen the reader's ability to critically analyse and compare their physical environments. The same level of detail is present throughout the book while discussing scales of communities, strategies for planning and so on...These [with A Guide to Planning for Community Character] are by far the most complete and detailed works dedicated to community character that I have ever come across. That makes these books a valuable addition to any planner's reference collection."
— Spacing

"...the book offers a useful discussion and set of tools for professional planners, citizens, and students—anyone engaged in the practice of local planning."
— Journal of Planning Education and Research
Island Press, 9781597266956, 208pp.
Publication Date: July 15, 2010
About the Author
Lane Kendig is the founder and former president of Kendig Keast Collaborative, a planning consulting firm with offices in Chicago, Houston, Wisconsin, and Colorado. He has been practicing and writing about the relationship between community design planning and regulatory tools for more than forty years. He is the author of Performance Zoning and Too Big, Boring, or Ugly: Planning and Design Tools to Combat Monotony, the Too-big House, and Teardowns and numerous articles.

Bret C. Keast, AICP serves as President of Kendig Keast, succeeding Lane H. Kendig upon his retirement. Bret's practice includes 20 years of experience with a Council of Governments and Metropolitan Planning Organization, a rapidly growing suburban municipality, and an international multi-disciplinary firm.
or
Not Currently Available for Direct Purchase