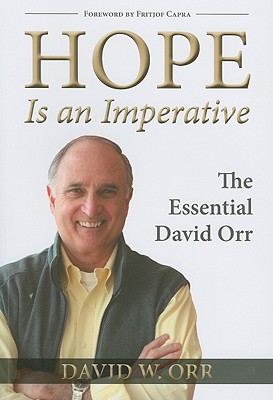 Hope Is an Imperative (Paperback)
The Essential David Orr
Island Press, 9781597267007, 400pp.
Publication Date: December 1, 2010
Other Editions of This Title:
Hardcover (12/1/2010)
* Individual store prices may vary.
Description
For more than three decades, David Orr has been one of the leading voices of the environmental movement, championing the cause of ecological literacy in higher education, helping to establish and shape the field of ecological design, and working tirelessly to raise awareness of the threats to future generations posed by humanity's current unsustainable trajectory.
 
Hope Is an Imperative brings together in a single volume Professor Orr's most important works. These include classics such as "What Is Education For?," one of the most widely reprinted essays in the environmental literature, "The Campus and the Biosphere," which helped launch the green campus movement,and "Loving Children: A Design Problem," which renowned theologian and philosopher Thomas Berry called "the most remarkable essay I've read in my whole life."
 
The book features thirty-three essays, along with an introductory section that considers the evolution of environmentalism, section introductions that place the essays into a larger context, and a foreword by physicist and author Fritjof Capra.
 
Hope Is an Imperative is a comprehensive collection of works by one of the most important thinkers and writers of our time. It offers a complete introduction to the writings of David Orr for readers new to the field, and represents a welcome compendium of key essays for longtime fans. The book is a must-have volume for every environmentalist's bookshelf.
About the Author
David Orr is the Paul Sears Distinguished Professor of Environmental Studies at Oberlin College and a James Marsh Professor-at-Large at the University of Vermont. He is best known for his pioneering work on environmental literacy in higher education and his recent work in ecological design. He spearheaded the effort to fund, design, and build a $7.2 million Environmental Studies Center at Oberlin College, a building described by the New York Times as "the most remarkable" of a new generation of college buildings and selected as one of 30 "milestone buildings in the 20th century" by the U.S. Department of Energy. Orr is recipient of numerous awards and was described by the Cleveland Plain Dealer as "one of those who will shape our lives."

Dr. Orr received a BA degree from Westminster College, an MA degree from Michigan State University, and a PhD degree from the International Relations University of Pennsylvania. He is the author of numerous books and articles.

Praise For Hope Is an Imperative: The Essential David Orr…
"No one writes more intelligently—or more eloquently—about the major issues of our time than David Orr. His essays are at once a challenge and an inspiration."
— Elizabeth Kolbert
"David Orr is a treasure trove of provocative thought as he probes the treacherous fault lines leading to unsustainable communities and ecological collapse. He challenges us to tear down the walls of separation between analytical science and intergenerational love and to ponder knowledge in search of life-sustaining wisdom."
— Larry Schweiger
"Orr (environmental studies and politics, Oberlin College) has assembled 35 essays he wrote between 1985 and 2000 documenting and analyzing what he calls the white-water rapids that human civilization entered during that period. The overall themes are the fundamentals, sustainability, ecological design, education, and energy and climate. Among the topics are verbicide, walking north on a southbound train, designing minds, ecological literacy, and Pascal's wager and economics in a hotter time."
—
Book News
"David W. Orr is obviously a very intelligent man and his essays provide rich food for thoughts for those of us who want to steer the world in a more sustainable direction."
—
Treehugger
"Orr lays out our societal blocks candidly, examines them, and then plainly and honestly states next steps. Steps that, while not necessarily easy, will help us evolve beyond current cultural constructs. This book dares you to be humble and to not react to ignorance and arrogance but rather reflect and respond with care and integrity. This book begins and ends by challenging and encouraging those who profess to lead, to teach, to do good in the world: Demonstrate your worth. Be humble, be honest, be visionary. Act. Study, love, appreciate, work with, and emulate what gives us life, purpose, connection, and beauty. There is so much more I would love to share about this book. It is totally worth your time and energy. Read it!"
— Massachusetts Environmental Education Society Website
"When someone new to sustainability asks me how to prepare for the journey, I say read David Orr. When a longtimer asks what will open their heart and mind all over again, I send them David's latest. If you crave honest, impassioned, and impeccably researched conversation about things that really matter, buy this book as a gift to yourself. You'll find no better thinking partner."
— Janine Benyus
"Like our other environmental heros, Rachel Carson and Aldo Leopold, David Orr's genius likes in his ability to bring together the practical wisdom of the ecological sciences, the moral clarity of ethics, and the power of incisive prose. Hope is an Imperative is a gift of enduring insight and imagination, a source of hope in itself."
— Kathleen Dean Moore
"Hope Is an Imperative is a compilation of some of the most provocative and poignant essays of distinguished American environmental studies professor and writer David Orr...the wisdom in this anthology can provide inspiration and ideas for how to apply sustainability principles into your teaching programs, community, and life."
—
Green Teacher
"[Orr] provides clear analysis of issues and lays out ethical and practical actions ... I gained insight and inspiration from nearly every page of this book, as evidenced by a nearly dry highlighter ... should be mandatory yearly reading for all those in the field of education... Get the book. You won't regret it ... The clarity of the arguments and the inspiration provided in this collection will increase the measure of your life's work thereafter."
—
Natural Areas Journal
or
Not Currently Available for Direct Purchase