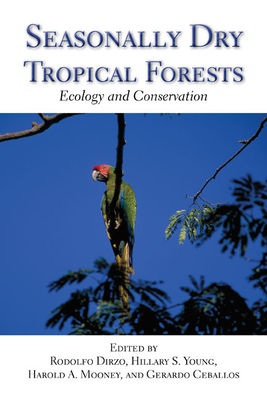 Seasonally Dry Tropical Forests (Paperback)
Ecology and Conservation
Island Press, 9781597267045, 408pp.
Publication Date: February 18, 2011
Other Editions of This Title:
Hardcover (2/18/2011)
* Individual store prices may vary.
Description
Though seasonally dry tropical forests are equally as important to global biodiversity as tropical rainforests, and are one of the most representative and highly endangered ecosystems in Latin America, knowledge about them remains limited because of the relative paucity of attention paid to them by scientists and researchers and a lack of published information on the subject.
 
Seasonally Dry Tropical Forests seeks to address this shortcoming by bringing together a range of experts in diverse fields including biology, ecology, biogeography, and biogeochemistry, to review, synthesize, and explain the current state of our collective knowledge on the ecology and conservation of seasonally dry tropical forests.
 
The book offers a synthetic and cross-disciplinary review of recent work with an expansive scope, including sections on distribution, diversity, ecosystem function, and human impacts. Throughout, contributors emphasize conservation issues, particularly emerging threats and promising solutions, with key chapters on climate change, fragmentation, restoration, ecosystem services, and sustainable use.
 
Seasonally dry tropical forests are extremely rich in biodiversity, and are seriously threatened. They represent scientific terrain that is poorly explored, and there is an urgent need for increased understanding of the system's basic ecology. Seasonally Dry Tropical Forests represents an important step in bringing together the most current scientific information about this vital ecosystem and disseminating it to the scientific and conservation communities.
About the Author
Rodolfo Dirzo and Harold A. Mooney are professors, and Hillary S. Young is a postdoctoral researcher in the Department of Biology, Stanford University. Gerardo Ceballos is a professor of biology at Instituto de Ecologia, at Universidad Nacional Autónoma de México.

Praise For Seasonally Dry Tropical Forests: Ecology and Conservation…
"Seasonally Dry Tropical Forests emphasizes the growing impact of human activities on ecological processes in these forests—a topic of critical importance given the high rate of conversion and fragmentation of tropical dry forests around the world."
— Katherine Renton
"Seasonally dry tropical forests, now the most severely threatened of the large tropical ecosystems, once covered more than half of the forested tropics. Just in time, this volume provides detailed, up-to-date information on how to restore these magnificent forests and the critical habitat they provide."
— Daniel H. Janzen
"If you are interested in dry tropical forests, what they are like and what's happening to them, then this book is an excellent starting point."
—
Chartered Forester
"Given the state of the global environment and seasonally dry tropical forests in particular, any comprehensive book must consider the role of society as was so effectively done in this new volume...Taken as a whole, and given the strength of the fourth section 'Human Impacts and Conservation,' this book is a necessary addition for the library of scientists and conservation practitioners throughout the tropics."
—
Biotropica
"[Seasonally Dry Tropical Forests]...provides a much-needed overview of seasonally dry tropical forests in their respective regions. It is perhaps true that rain forests generally receive the lion's share of researcher and conservation attention, but SDTF are no less fascinating, and equally in need of conservation intervention."
— Jaboury Ghazoul
"In sum, this book offers exceptional insight into the history, characteristics, current status, and future outlook of SDTFs [seasonally dry tropical forests]...This book is a significant contribution to the study of SDTFs and will provide a baseline reference for both new students and experienced researchers."
—
Quarterly Review of Biology
"Overall, this latest book on seasonally dry forests is likely to become a major source of reference in years to come. It certainly will occupy a prominent place in my bookshelf."
—
Ecology
or
Not Currently Available for Direct Purchase