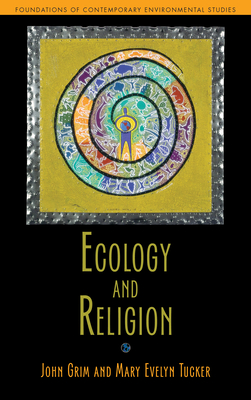 Ecology and Religion (Foundations of Contemporary Environmental Studies Series) (Paperback)
Island Press, 9781597267083, 280pp.
Publication Date: January 2, 2014
* Individual store prices may vary.
Description
From the Psalms in the Bible to the sacred rivers in Hinduism, the natural world has been integral to the world's religions. John Grim and Mary Evelyn Tucker contend that today's growing environmental challenges make the relationship ever more vital.

This primer explores the history of religious traditions and the environment, illustrating how religious teachings and practices both promoted and at times subverted sustainability. Subsequent chapters examine the emergence of religious ecology, as views of nature changed in religious traditions and the ecological sciences. Yet the authors argue that religion and ecology are not the province of institutions or disciplines alone. They describe four fundamental aspects of religious life: orienting, grounding, nurturing, and transforming. Readers then see how these phenomena are experienced in a Native American religion, Orthodox Christianity, Confucianism, and Hinduism.

Ultimately, Grim and Tucker argue that the engagement of religious communities is necessary if humanity is to sustain itself and the planet. Students of environmental ethics, theology and ecology, world religions, and environmental studies will receive a solid grounding in the burgeoning field of religious ecology.
About the Author
John Grim and Mary Evelyn Tucker are Senior Lecturers and Research Scholars at Yale University. They are founders of the Forum on Religion and Ecology at Yale and series editors of Religions of the World and Ecology from the Harvard Center for the Study of World Religions. They won an Emmy for their film Journey of the Universe with Brian Swimme.
Praise For Ecology and Religion (Foundations of Contemporary Environmental Studies Series)…
"Grim and Tucker integrate vast personal experiences and serious scholarship across multiple global cultures and disciplines to produce keen, fresh insight for today's world. A compelling, inspirational, and hopeful look at a path to a meaningful and sustainable future."
— Jane Lubchenco
"A must-read for anyone interested in the intersection of ecology, religion, and ethics, and in the role that religions could play in resolving the complex environmental concerns of today."
— Eleanor Sterling
"An astonishingly comprehensive view of human relations with the natural world."
— John Cobb
"The almost unimaginable environmental challenge humanity faces—a daunting Gordian knot of science, plus ethical and moral values—demands ways forward. Those will be found at the intersection of science and religion. Nobody understands this thicket—so filled with hope, promise and complexities—better than John Grim and Mary Evelyn Tucker. Ecology and Religion lights the path forward."
— Thomas E. Lovejoy
"How wonderful to have the world's leading authorities on religion and ecology, John Grim and Mary Evelyn Tucker, offer this profound but accessible examination of the field just as the world's religions are entering their ecological phase. This book is more than a source of deep understanding—it is an inspiration."
— James Gustave Speth
"John Grim and Mary Evelyn Tucker are two of the most well-known figures advocating religious ecologies—the bridging of scientific and religious worldviews. In their book Ecology and Religion, they argue that the religious component is a 'missing link,' 'an important lens whereby humans can understand and reenvision their roles as participants in the dynamic process of life.' …In volumes of this genre, their virtue must mirror their vice—that of being both sketchy and simultaneously insightful. 'Painted in broad brushstrokes,' the book is cosmopolitan in the original Greek sense, as in a citizen of the cosmos."
—
BioScience
"...refreshing in its premise that all religions have something important to teach us about how to motivate ourselves and others to act on global climate change, if only we listen, talk, and synthesize."
—
Friends Journal
"...highly recommend this volume for the stated purposes of filling a much-needed niche in the introductory market of religious ecology for undergraduate students. The text provides a highly accessible, broad narrative that could form the core of any class having to do with religious ecology."
—
The Quarterly Review of Biology