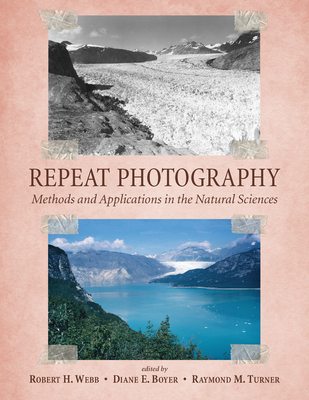 Repeat Photography (Paperback)
Methods and Applications in the Natural Sciences
Island Press, 9781597267137, 392pp.
Publication Date: November 15, 2010
Other Editions of This Title:
Hardcover (11/15/2010)
* Individual store prices may vary.
Description
First developed in the 1880s as a way to monitor glaciers in Europe, repeat photography —the practice of taking photographs at different points in times from the same physical vantage point—remains an essential and cost-effective technique for scientists and researchers working to track and study landscape change.
 
This volume explores the technical and geographic scope of this important technique, focusing particularly on the intertwined influences of climatic variation and land-use practices in sculpting landscapes. Contributors offer a broad-perspective review of the state-of-the-art of repeat photography, with twenty-three chapters written by researchers around the globe who have made use of repeat photography in their work. Topics addressed include
the history of repeat photography
techniques for creating and analyzing repeat photographs
applications in the geosciences
applications in population ecology
applications in ecosystem change
cultural applications

Repeat Photography demonstrates the wide range of potential applications, examines new techniques for acquiring data from repeat photography, and clearly shows that repeat photography remains a valuable and efficient means of monitoring change in both developed and developing regions. Over one hundred sets of photographs, including thirty-two pages of color photos, serve as examples.
 
Recent concerns about climate change and its effects on natural landscapes, combined with ongoing concerns about land-use practices, make this state-of-the-art review a timely contribution to the literature.
About the Author
Dr. Robert H. Webb is a hydrologist and Diane E. Boyer is a photo archivist with the U.S. Geological Survey National Research Program in Tucson, Arizona.

Dr. Raymond M. Turner is a botanist, now retired from the USGS in Tucson. In 1959, Turner established the Desert Laboratory Repeat Photography Collection, now managed by Webb and Boyer.

Praise For Repeat Photography: Methods and Applications in the Natural Sciences…
"These remarkable essagys bring together a treasure chest of accumulated wisdom from more than three dozen scholars who have explored the world of repeat photography. From the rural Scottish Highlands to the desert landscapes of Arizona, these innovative case studies showcase the use of repeat photography in the sciences and provide general observations on the techniques and applications of this fascinating, rapidly evolving field."
— William Wyckoff, author of "On the Road Again: Montana's Changing Landscape"
"As an archivist, I applaud the myriad ways these talented scientists from around the world have incorporated repeat photogrpahy into their research. Historic photographs teach us much about environmental and cultural change and the continutiy—from subtle shifts to cataclysmic events. Thousands of images await discovery by like-minded, innovative scholars. Kudos to Webb, Boyer, and Turner for leading the charge."
— Karen J. Underhill
"Repeat photography, which can be a rigorous, scientific technique requiring precision and patience, has made a significant contribution to the study of landscape dynamics over the past century. This book is a wonderful and uniquely important contribution to the proper use of this technique for contemporary ecological studies."
— Kris Havstad
"Repeat photography proves that pictures are indeed worth a thousand words. What Webb, Boyer, and Turner teach us is that pictures also open up fresh paths of interpretation and understanding. New digital technologies and discoveries of historical photographic collections usher in an exciting era for appreciating cultural, ecological, and geophysical change. Spanning continents, disciplines, and techniques, Repeat Photography will become a standard reference."
— Eric Higgs
"This book is excellent, with much to offer both the specialist and the more general reader. It comprehensively explores the techniques and applications of repeat photography and will prove the benchmark in the field."
— Brian H. Luckman
"Repeat Photography: Methods and Applications in the Natural Sciences will remain a standard reference."
—
Restoration Ecology
"Repeat Photography: Methods and Applications in the Natural Sciences has all the ingredients to make it a definitive treatise about visually measuring landscape change."
—
Ecological Restoration
"I was struck by the ingenuity and creativity of many of the analyses, both qualitative and quantitative..."
—
Ecological Management & Restoration
or
Not Currently Available for Direct Purchase