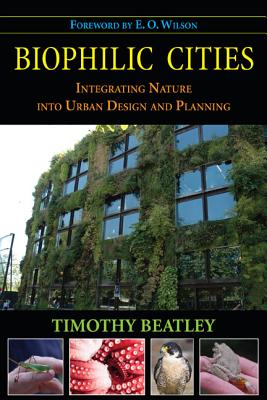 Biophilic Cities (Hardcover)
Integrating Nature into Urban Design and Planning
Island Press, 9781597267144, 208pp.
Publication Date: October 21, 2010
Other Editions of This Title:
Paperback (10/25/2010)
* Individual store prices may vary.
Description
Tim Beatley has long been a leader in advocating for the "greening" of cities. But too often, he notes, urban greening efforts focus on everything except nature, emphasizing such elements as public transit, renewable energy production, and energy efficient building systems. While these are important aspects of reimagining urban living, they are not enough, says Beatley. We must remember that human beings have an innate need to connect with the natural world (the biophilia hypothesis). And any vision of a sustainable urban future must place its focus squarely on nature, on the presence, conservation, and celebration of the actual green features and natural life forms.
 
A biophilic city is more than simply a biodiverse city, says Beatley. It is a place that learns from nature and emulates natural systems, incorporates natural forms and images into its buildings and cityscapes, and designs and plans in conjunction with nature. A biophilic city cherishes the natural features that already exist but also works to restore and repair what has been lost or degraded.
 
In Biophilic Cities Beatley not only outlines the essential elements of a biophilic city, but provides examples and stories about cities that have successfully integrated biophilic elements--from the building to the regional level--around the world.
 
From urban ecological networks and connected systems of urban greenspace, to green rooftops and green walls and sidewalk gardens, Beatley reviews the emerging practice of biophilic urban design and planning, and tells many compelling stories of individuals and groups working hard to transform cities from grey and lifeless to green and biodiverse.
About the Author
Timothy Beatley is the Teresa Heinz Professor of Sustainable Communities at the School of Architecture at the University of Virginia, where he has taught for over twenty-five years. His primary teaching and research interests are in environmental planning and policy, with special emphasis on coastal and natural hazards planning, environmental values and ethics, and biodiversity conservation. He has published extensively in these areas, including the following books: Ethical Land Use; Habitat Conservation Planning: Endangered Species and Urban Growth; Natural Hazard Mitigation; and An Introduction to Coastal Zone Management. In recent years much of his research and writing has been focused on the subject of sustainable communities, and creative strategies by which cities and towns can reduce their ecological footprints, while at the same time becoming more livable and equitable places. His books that explore these issues include Biophilic Cities, Resilient Cities, and Green Urbanism (Island Press).
Praise For Biophilic Cities: Integrating Nature into Urban Design and Planning…
"Because of his great vision, Tim Beatley is a hero to many of us. To paraphrase a famous quote, some people see cities as they are and ask why; Tim Beatley sees cities as they could be (filled with nature) and says why not?"
— Richard Louv, author of "Last Child in the Woods: Saving Our Children from Nature-Deficit Disorder"
"This outstanding and important book provides inspiration and practical guidance for addressing the basic human need for nature in a rapidly urbanizing world, authored by one of the world's great authorities on harmonizing nature and humanity in cities today."
— Stephen R. Kellert, Professor Emeritus, Yale School of Forestry & Environmental Studies
"The future of our species depends on our ability to coexist with the natural world. But what does this actually mean for human settlements? Biophilic Cities makes the case for why nature is so vital to the human experience, and how urban planning and design can harness our affinities with nature to create more sustainable cities. It is a must-read for anyone interested in the future of cities."
— Jennifer Wolch, Dean, College of Environmental Design, UC Berkeley
"Presenting both conceptual overviews and practical advice, the work tackles building, site, and community-level planning and goes beyond the now-familiar tenets of 'green building' to advocate for an ecosystem wide vision for habitat conservation, restoration and construction....This work is appropriate for college-level planning and design students but will also be of interest to environmental activists and green construction practitioners."
— Reference & Research Book News
"Makes a compelling case for including more nature in our cities…Tremendously educational and provides the reader with a delightful new perspective to re-explore their surroundings."
— Re:place Magazine
"...Biophilic Cities provides a convincing argument for integrating 'nature' into cities...the book is excellent at bringing together environment-behavior studies and summarizing the latest in environmental-psychology research."
— Traditional Dwellings and Settlements Review
"This book expresses the credo of a very dedicated author who sees great merits in re-introducing nature into cities and urban culture."
— Urban Design
or
Not Currently Available for Direct Purchase