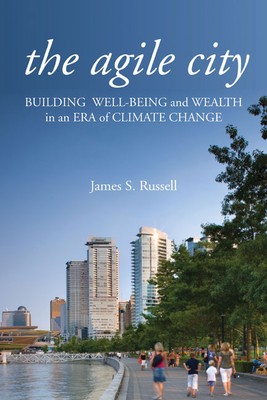 The Agile City (Hardcover)
Building Well-being and Wealth in an Era of Climate Change
Island Press, 9781597267243, 312pp.
Publication Date: May 5, 2011
* Individual store prices may vary.
Description
In a very short time America has realized that global warming poses real challenges to the nation's future. The Agile City engages the fundamental question: what to do about it?
 
Journalist and urban analyst James S. Russell argues that we'll more quickly slow global warming-and blunt its effects-by retrofitting cities, suburbs, and towns. The Agile City shows that change undertaken at the building and community level can reach carbon-reduction goals rapidly.
Adapting buildings (39 percent of greenhouse-gas emission) and communities (slashing the 33 percent of transportation related emissions) offers numerous other benefits that tax gimmicks and massive alternative-energy investments can't match.
 
Rapidly improving building techniques can readily cut carbon emissions by half, and some can get to zero. These cuts can be affordably achieved in the windshield-shattering heat of the desert and the bone-chilling cold of the north. Intelligently designing our towns could reduce marathon commutes and child chauffeuring to a few miles or eliminate it entirely. Agility, Russell argues, also means learning to adapt to the effects of climate change, which means redesigning the obsolete ways real estate is financed; housing subsidies are distributed; transportation is provided; and water is obtained, distributed and disposed of. These engines of growth have become increasingly more dysfunctional both economically and environmentally.
 
The Agile City highlights tactics that create multiplier effects, which means that ecologically driven change can shore-up economic opportunity, can make more productive workplaces, and can help revive neglected communities. Being able to look at multiple effects and multiple benefits of political choices and private investments is essential to assuring wealth and well-being in the future. Green, Russell writes, grows the future.

About the Author
James S. Russell is the architecture columnist for Bloomberg News. He has written about cities, architecture, and environmental design for more than 20 years. As a long-time editor, he helped Architectural Record magazine win a National Magazine Award for General Excellence. He has written for numerous newspapers, magazines and books and consulted to environmental organizations, cities, and architects. He teaches at the City College of New York and is a Fellow of the American Institute of Architects.

Praise For The Agile City: Building Well-being and Wealth in an Era of Climate Change…
"instills hope and inspires movement toward being better at living on this planet"
"Russell has the courage to discuss two subjects that are usually guaranteed to make your eyes glaze over (I know, I have written about them numerous times)—property rights and the real estate development industry—and he makes it interesting…. He argues persuasively for learning from the past… [and] is full of so many good ideas. He calls for a more creative, more agile way of regulating in a 'loose-fit' context. Simple rules. Smart Grids. Green economies. Slow food. But in the end, I am having trouble summarizing the most important recommendations of this book, because there are so many and they are so diverse."
"Russell's thesis is powerful, his reasoning tight, and his evidence persuasive. All told, The Agile City is one of the most compelling environmental treatises to appear in recent decades."
"The Agile City is a particularly astute summary and prescription for practical and nuanced organizational and economic strategies."
"...for an uninitiated audience, there are few texts comparable to The Agile City in terms of its comprehensive approach and efficient language."
"The Agile City is a brilliant manifesto. James Russell makes a compelling case that climate change must be confronted at home: in the designs of our houses, apartments, workplaces and cities. But this is not just another 'green' initiative—the results could profoundly improve our quality of life—even as they help save the planet."
— James B. Stewart, author of "Tangled Webs" and "Den of Thieves"
"James Russell offers a timely and compelling blueprint for a realistic transformation of America's energy consumption by refusing to fall victim to conventional thinking. Accessible—pragmatic even—Russell's proposals speak to goals on the immediate horizon and underscore the role that intelligent design can play now in America. On a longer horizon, his analysis points to a range of issues about land use, transportation, and coordination of public and private investments to which the design professions have an enormous contribution to make. Here design and policy find common ground."
— Barry Bergdoll, Philip Johnson Chief Curator of Architecture and Design, Museum of Modern Art
"After observing architecture, real estate, and the built environment for decades, James Russell tackles the largest issue of the day: climate change. He demonstrates that practical, wealth-creating ways of growing and redeveloping American metropolitan areas will significantly address this crisis. Russell shows that local officials, real estate developers, building owners and homeowners can work in their own interests while meeting our long-term environmental goals."
— Christopher B. Leinberger, University of Michigan, Brookings Institution and author of "The Option of Urbanism"
"This book helps the reader identify changes that make large impacts at low costs... The book helps readers take charge of their community's future by understanding the processes that make communities dynamic and adaptable."
"...the book provides some useful examples of realistic compromises which contribute to a less wasteful urban environment without attracting the wrath of the development industry. It also shows innovative actions taken on the margin, which have the potential to change legislation."
or
Not Currently Available for Direct Purchase