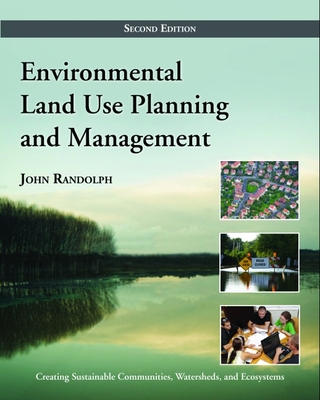 Environmental Land Use Planning and Management (Hardcover)
Second Edition
Island Press, 9781597267304, 776pp.
Publication Date: December 30, 2011
* Individual store prices may vary.
Description
Since the first publication of this landmark textbook in 2004, it has received high praise for its clear, comprehensive, and practical approach.  The second edition continues to offer a unique framework for teaching and learning interdisciplinary environmental planning, incorporating the latest thinking, newest research findings, and numerous, updated case studies into the solid foundation of the first edition.

The book has been reorganized based on feedback from instructors, and contains a new chapter entitled "Land Use, Energy, Air Quality and Climate Change." Throughout, boxes have been added on such topics as federal laws, state and local environmental programs, and critical problems and responses.

This new edition addresses three broad subject areas. Part I, "Environmental Planning and Management," provides an overview of the field, along with the fundamentals of land use planning, and presents a collaborative approach to environmental planning. Part II, "Sustainable Land Use Principles and Planning Analysis," considers environmental and geospatial information; soils, topography, and land use; stream flow, flooding, and runoff; stormwater management and stream restoration; groundwater hydrology; landscape ecology; wildlife habitats and biodiversity; energy, air quality and climate change; and methods for land analysis. Part III, "Managing Watersheds, Ecosystems and Development to Achieve Sustainable Communities," explains the principles of ecosystem management, restoration, and protection; land conservation; and the mitigation of natural hazards.

With this thoroughly revised second edition, Environmental Land Use Planning and Management maintains its preeminence as the leading textbook in its field.
About the Author
John Randolph has taught at Virginia Tech since 1979. From 2003 to 2008 he was director of the School of Public and International Affairs. He has written 140 publications and conference papers and has directed or codirected nineteen sponsored research projects totaling more than a million dollars in grants and contracts since 1990.

Praise For Environmental Land Use Planning and Management: Second Edition…
"This is the book that environmental and water planners have been waiting for since the 1969 publication of McHarg's
Design With Nature
...Randolph has produced a comprehensive text for the modern environmental planner."
— Journal of Planning Education and Research
"Throughout this second edition of his excellent book, John Randolph demonstrates a key principle of environmental planning: we must continually respond to new issues, knowledge, and techniques. He does so wonderfully here, providing an essential resource for anyone engaged in the work of understanding, analyzing, and planning for sustainable built and natural environments."
— Stacey Swearingen White, Associate Professor of Urban Planning, University of Kansas
"Comprehensive, eminently readable, and timely, Randolph's illustrated account of the fields of land use and environmental planning is remarkable. This is a seminal book for scholars and educators as well as managers and decision-makers."
— Vivek Shandas, Associate Professor of Urban Studies, Portland State University
"John Randolph provides a splendid, comprehensive source for the environmental aspects of land use planning. Anyone attempting to prepare a land use plan should start with this useful book."

— Frederick Steiner, Dean, School of Architecture, University of Texas at Austin