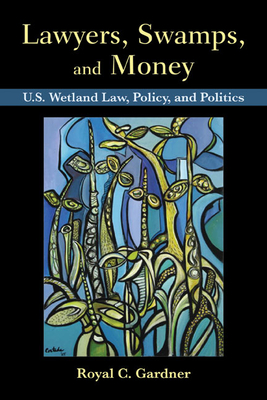 Lawyers, Swamps, and Money (Paperback)
U.S. Wetland Law, Policy, and Politics
Island Press, 9781597268158, 280pp.
Publication Date: April 15, 2011
Other Editions of This Title:
Hardcover (4/15/2011)
* Individual store prices may vary.
Description
Lawyers, Swamps, and Money is an accessible, engaging guide to the complex set of laws governing America's wetlands. After explaining the importance of these critical natural areas, the book examines the evolution of federal law, principally the Clean Water Act, designed to protect them.
Readers will first learn the basics of administrative law: how agencies receive and exercise their authority, how they actually make laws, and how stakeholders can influence their behavior through the Executive Branch, Congress, the courts, and the media. These core concepts provide a base of knowledge for successive discussions of:
the geographic scope and activities covered by the Clean Water Act
the curious relationship between the U.S. Army Corps of Engineers and the Environmental Protection Agency
the goal of no net loss of wetlands
the role of entrepreneurial wetland mitigation banking
the tension between wetland mitigation bankers and in-lieu fee mitigation programs
wetland regulation and private property rights.
The book concludes with insightful policy recommendations to make wetlands law less ambiguous and more effective.
 
A prominent legal scholar and wetlands expert, professor Royal C. Gardner has a rare knack for describing landmark cases and key statutes with uncommon clarity and even humor. Students of environmental law and policy and natural resource professionals will gain the thorough understanding of administrative law needed to navigate wetlands policy-and they may even enjoy it.
About the Author
Royal C. Gardner is Professor of Law and Director of the Institute for Biodiversity Law and Policy at Stetson University.

Praise For Lawyers, Swamps, and Money: U.S. Wetland Law, Policy, and Politics…
"...if a normal law book is like eating your brussels sprouts, this book is guacamole funny. Mr. Gardner has a light tone and peppers the book with humorous illustrations and anecdotes, while sneaking in nutritious law and policy. ... So in short, you should buy this book if you are: a U.S. wetland regulator, policy-maker, lawyer, banker, in-lieu fee provider, researcher, or consultant."
— Madsen Environmental
"Lawyers, Swamps, and Money explains the importance of America's wetlands and the threats they face, and examines the evolution of federal law, principally the Clean Water Act, designed to protect them. Royal Gardner's writing is simultaneously substantive and accessible to a wide audience—from policy makers to students to citizen activists."
— Environmental Law Professor Blog
"Swamps seldom are an engaging topic of conversation, let alone of a book. Lawyers, Swamps, and Money is the exception....Overall, the book is an excellent addition for collections on law, public policy, and the environment."
—
CHOICE
"For a legal lesson, the book is surprisingly readable. Gardner sprinkles it with swamp humor and insights—from Shakespeare to Gary Larson. In conclusion, Gardner comes across as an optimist, proposing a laundry list of reforms to lead regulators and administrators out of the, er, swamp of wetlands management."
—
Natural Hazards Observer
"Gardner, unquestionably one of the nation's leading experts on wetland law and policy, has provided something for everyone interested in the field. Lawyers, Swamps, and Money will serve as an invaluable primer for students and others just entering the mystifying world of wetlands, and it is also chock full of insights and information that will add to any expert's appreciation and understanding."
— J.B. Ruhl
"With a clear, logical, and humorous style, Gardner describes the antics of land owners, regulators, and justices—all of which would be funnier if they weren't true and if the stakes were not so high. Those who want to understand why we don't have clean water, and all who want to correct the problems, need to begin by reading this book!"
— Joy B. Zedler
"Want to be entertained reading about wetlands law? Written with wit and solid research, Roy Gardner has converted the complex legal history of federal wetlands law into a delightful, good read."
— Margaret "Peggy" Strand
"Lawyers, Swamps, and Money pulls off several neat tricks: It not only threads a clear path through the present complexity of wetlands protection law while thoughtfully charting important national win-win strategies for the future, but it also does so in a style that is helpful for both citizen activists and environmental attorneys."
— Zygmunt Jan Broël Plater
"In conclusion, Lawyers, Swamps, and Money is both comprehensive and complete. Professor Gardner brings to bear his considerable experience in wetland law to create a book that is both concise and refreshing in its treatment of the issues at hand. Throughout the book, Gardner's humor adds a pleasant touch that keeps the reader turning the pages. In the end, the reader is left with a strong impression that wetland policy is in need of change; just how to implement that change in the face of economic and environmental pressures is the intellectual challenge. In short, this book is a must read for anyone interested in learning about or hoping to change wetland policy in the United States."
—
Ocean and Coastal Law Journal
or
Not Currently Available for Direct Purchase