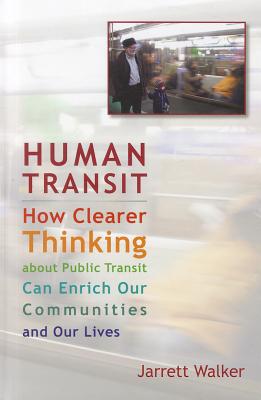 Human Transit
How Clearer Thinking about Public Transit Can Enrich Our Communities and Our Lives
Hardcover

* Individual store prices may vary.
Other Editions of This Title:
Paperback (12/22/2011)
Description
Public transit is a powerful tool for addressing a huge range of urban problems, including traffic congestion and economic development as well as climate change. But while many people support transit in the abstract, it's often hard to channel that support into good transit investments.  Part of the problem is that transit debates attract many kinds of experts, who often talk past each other.  Ordinary people listen to a little of this and decide that transit is impossible to figure out.
 
Jarrett Walker believes that transit can be simple, if we focus first on the underlying geometry that all transit technologies share. In Human Transit, Walker supplies the basic tools, the critical questions, and the means to make smarter decisions about designing and implementing transit services.
 
Human Transit explains the fundamental geometry of transit that shapes successful systems; the process for fitting technology to a particular community; and the local choices that lead to transit-friendly development. Whether you are in the field or simply a concerned citizen, here is an accessible guide to achieving successful public transit that will enrich any community.
Praise For Human Transit: How Clearer Thinking about Public Transit Can Enrich Our Communities and Our Lives…
"Intelligent, refreshing, balanced and richly mindful of the unique settings of individual communities."
— Douglas MacDonald, former Secretary, Washington State Department of Transportation
"
Human Transit
provides practical guidance for urban public transit system development in prose that is clear and entertaining without being simplistic. This book should be useful to anybody involved in public transit planning, design, or advocacy."
— Todd Litman, Victoria Transport Policy Institute
"This book gives professionals, pundits and the citizenry the tools to have conversations that lead to real solutions rather than confrontations."
— Terry Lee-Williams, Transport and Access Manager, City of Sydney, Australia
"Jarrett Walker pulls transit out of its specialist silo and treats it in layman's terms, as an embodiment of shared values and a partial answer to the vital question 'what kind of city do you want?'
Human Transit
is an engrossing narrative that explains the real choices that informed citizens need to make."
— Ken Greenberg, author of "Walking Home: the Life and Lessons of a City Builder"
"It's difficult to categorize Jarrett Walker's excellent new book,
Human Transit
. It's not quite for a popular audience, though it's written with engaging ease. It's not for academics, though it's as thorough as most published research and far more approachable. It's not strictly for a policy audience, though it's fresh grist for any transit wonk's mill. Its closest literary cousin may be a good language book, for it feels capable of teaching anyone, beginner or beyond, to speak Transit more fluently."
— Atlantic Cities
"
Human Transit
is a choice addition for any social issues or urban development collection."
— Midwest Book Review
"Walker leads the reader through these intricate considerations with dexterity and thoroughness."
— Planning
"Walker...has produced a well-written, totally nonpolemical, very readable book describing the many tradeoffs to be considered in meeting local goals for providing transit service."
— Choice
"Walker takes complicated and often technical subjects and presents them to the reader in layman's terms."
— Urban Review STL
"Human Transit... presents itself as a sort of Public Transportation for Dummies, explaining in abstract, but remarkably clear, terms the logic that governs public transit systems and the choices—some technical, some ethical—that transit planners and operators make."
— California Planning & Development Report
"Once in a while, a book comes along that summarizes most of what's important about a particular subject, and it does so in a way that's lucid and effortless. One such book is Jarrett Walker's Human Transit…This is an easy read. You can go through the whole book in a few hours. That makes its lessons more likely to be absorbed. Human Transit will serve you well as a source you can turn to for reference in the future. It will also make you a better new urbanist."
— Better Cities & Towns
"Human Transit is well organized with short chapters and clear diagrams to illustrate some of the more complex concepts ... Walker does a good job of avoiding transportation planning jargon and makes careful choices about terminology... His writing style makes it easy to understand types of running ways, the reasons agencies are concerned about farebox returns, and the benefits of new technologies such as Smartcards."

— Journal of Planning Education and Research
Island Press, 9781597269711, 256pp.
Publication Date: December 22, 2011
About the Author
Jarrett Walker has been designing public transit systems for over 20 years.  He is an independent consultant in North America and Principal Consultant with MRCagney in Australia.  He writes the popular transit blog HumanTransit.org.
or
Not Currently Available for Direct Purchase