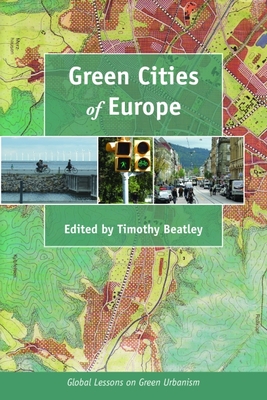 Green Cities of Europe (Paperback)
Global Lessons on Green Urbanism
Island Press, 9781597269759, 248pp.
Publication Date: May 15, 2012
Other Editions of This Title:
Hardcover (5/15/2012)
* Individual store prices may vary.
Description
In the absence of federal leadership, states and localities are stepping forward to address critical  problems like climate change, urban sprawl, and polluted water and air. Making a city fundamentally sustainable is a daunting task, but fortunately, there are dynamic, innovative models outside U.S. borders. Green Cities of Europe draws on the world's best examples of sustainability to show how other cities can become greener and more livable.
Timothy Beatley has brought together leading experts from Paris, Freiburg, Copenhagen, Helsinki, Heidelberg, Venice, Vitoria-Gasteiz, and London to illustrate groundbreaking practices in sustainable urban planning and design. These cities are developing strong urban cores, building pedestrian and bicycle infrastructure, and improving public transit. They are incorporating ecological design and planning concepts, from solar energy to natural drainage and community gardens. And they are changing the way government works, instituting municipal "green audits" and reforming economic incentives to encourage sustainability.
Whatever their specific tactics, these communities prove that a holistic approach is needed to solve environmental problems and make cities sustainable. Beatley and these esteemed contributors offer vital lessons to the domestic planning community about not only what European cities are doing to achieve that vision, but precisely how they are doing it. The result is an indispensable guide to greening American cities.
Contributors include:
 Lucie Laurian (Paris)
Dale Medearis and Wulf Daseking (Freiburg)
Michaela Brüel (Copenhagen)
Maria Jaakkola (Helsinki)
Marta Moretti (Venice)
Luis Andrés Orive and Rebeca Dios Lema (Vitoria-Gasteiz)
Camilla Ween (London)
About the Author
Timothy Beatley is Teresa Heinz Professor of Sustainable Communities in the Department of Urban and Environmental Planning, in the School of Architecture at the University of Virginia, where he has taught for more than twenty years. He is the author of many books, including Biophilic Cities, Resilient Cities, and Green Urbanism (Island Press).
Praise For Green Cities of Europe: Global Lessons on Green Urbanism…
"...an important update of his solo-authored 1999 book,
Green Urbanism: Learning from European Cities
."
— Journal of the American Planning Association
"[Beatley's] wide-ranging reporting and analysis of green-urbanist work, including his channeling of crucial ideas of campaction, is foundational for clear thinking on the subject."
— Landscape Architecture Magazine
"This is essential reading for all those concerned with urban sustainability."
— International Making Cities Livable
"Beatley makes a convincing argument supporting his contention that European cities are world leaders in sustainability efforts...
Green Cities
offers detailed insights into what some of the leading European cities are doing to promote sustainabiltiy."
— Examiner
"The book includes many wonderful ideas and imparts a general sense of optimism; it will be a useful supplemental resource for students in urban studies programs."
— CHOICE
"Does this book offer guidance to US planning practitioners and politicians? Undoubtedly. The book provides practical evidence of innovative green efforts that have been adopted, faced challenges, and are still successful...The book is not a 'how to' but rather a 'let's see.' Beatley acknowledges that the US is not, and will never be, Europe. That is not a failing of his work, but rather a strength as he notes in his conclusion: take the examples, make them our own"

— Journal of Planning Education and Research
"
Green Cities of Europe
is the long awaited and much needed sequel to Beatley's pioneering
Green Urbanism: Learning from European Cities
. His updated overview of Europe's leadership in green urbanism is enhanced by case studies from practitioners and scholars who know these places so well."
— Christopher Silver
"Timothy Beatley understands that sustainability is about building for the long term, and in assembling this important volume he has selected inspiring examples of durability and resilience in city building and place making. He gives us all reason to hope for our own cities."
— Hank Dittmar, Chief Executive, The Prince's Foundation
"Few books I use both in the classroom and in practice have had the level of transformative, transferable impact as Timothy Beatley's
Green Urbanism
. Now, with the expanded in-depth case studies presented in
Green Cities of Europe
, our toolbox for illustrating substantive change is redoubled."
— Stephen A. Goldsmith
"I've not yet visited Europe so I don't have personal experience to draw from, but now I want to go more than ever."
— Urban Review STL
"...an encouraging read on 'the art of the possible'..."

— Urban Design
or
Not Currently Available for Direct Purchase