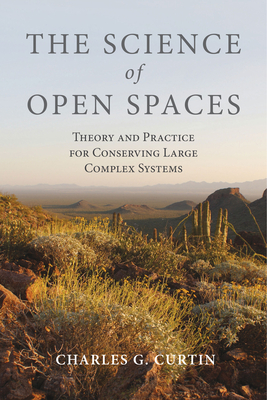 The Science of Open Spaces (Hardcover)
Theory and Practice for Conserving Large, Complex Systems
Island Press, 9781597269926, 272pp.
Publication Date: July 23, 2015
* Individual store prices may vary.
Description
From the days of the American Frontier, the term "open spaces" has evoked a vision of unspoiled landscapes stretching endlessly toward the horizon, of nature operating on its own terms without significant human interference. Ever since, government agencies, academia, and conservation organizations have promoted policies that treat large, complex systems with a one-size-fits-all mentality that fails to account for equally complex social dimensions of humans on the landscape. This is wrong, argues landscape ecologist and researcher Charles Curtin. We need a science-based approach that tells us how to think about our large landscapes and open spaces at temporally and spatially appropriate scales in a way that allows local landowners and other stakeholders a say in their futures.
 
The Science of Open Spaces turns conventional conservation paradigms on their heads, proposing that in thinking about complex natural systems, whether the arid spaces of the southwestern United States or open seas shared by multiple nations, we must go back to "first principles"--those fundamental physical laws of the universe--and build innovative conservation from the ground up based on theory and backed up by practical experience. Curtin walks us through such foundational science concepts as thermodynamics, ecology, sociology, and resilience theory, applying them to real-world examples from years he has spent designing large-scale, place-based collaborative research programs in the United States and around the world.
 
Compelling for not only theorists and students, but also practitioners, agency personnel, and lay readers, this book offers a thoughtful and radical departure from business-as-usual management of Earth's dwindling wide-open spaces.
 
About the Author
Charles G. Curtin is a senior fellow at the Center for Natural Resources and Environmental Policy at the University of Montana and a consulting landscape ecologist with the Center for Large Landscape Conservation in Bozeman, Montana. His work focuses on community-based conservation, large-scale experimental science, and policy design in marine and terrestrial ecosystems.
Praise For The Science of Open Spaces: Theory and Practice for Conserving Large, Complex Systems…
"Curtin's book is winningly written, acutely observed and draws on his work in community-based conservation... [it] offers some hope of achieving sustainable land management in large ecosystems."
— New Scientist
"Scientists, theorists, conservationists, policy-makers teachers, and students alike will find The Science of Open Spaces useful and challenging. … like most of us, he has sought to make the most of his personal experience as a scientist concerned with the conservation of open spaces, and striving to see clearly through complexity. His effort, and the results he presents, will strongly resonate with readers."
— Ecology
"The book defies the typical top-down thinking of conservation theorists and government agencies and effectively demonstrates that one-size-fits-all strategies do not work in complex open systems."
— Conservation Biology
"The Science of Open Spaces provides readers with a roadmap to 21st century land management, where the stakes are high, collaboration is crucial, and profound uncertainty in the face of the complexity often hampers decision-making. The scope of issue could easily intimidate, leading to quick, reactive choices or even paralysis. Curtin instead offers a structured, accessible approach for tackling the understanding and management of open spaces...Curtin does an exceptional job of balancing interesting yet readable case studies with underlying ecological and sociological theory...Readers will find this book an engaging and substantive guide to the pitfalls and paths to success of collaborative conservation."
— The Prairie Naturalist
"Every reader will appreciate the well-presented case studies and for those who have worked in the trenches struggling with landscape scale conservation efforts, I guarantee there will be many aha moments."
— Living Landscape Observer
"A valuable resource..as well as an enlightening read for scientists, professionals, and academicians, regardless of academic specialty." 
— CHOICE
"The Science of Open Spaces presents an astonishing grasp of social, ecological, historic, and conservation knowledge, linking that interdisciplinary knowledge with the author's experiences with fishing and ranching communities in large-scale conservation contexts. He shows us how to make conservation work for people and nature amid complexity and change."
— Lynn Scarlett, The Nature Conservancy
"The Science of Open Spaces weaves together theory and practice to advance our understanding of managing complex resource systems. Charles Curtin applies concepts from thermodynamics, complexity theory, and macroecology to the management of wet and dry landscapes, and describes the hard-won lessons from decades of experience. This volume is a must-read for serious students, scholars, and practitioners of natural resource management."
— Lance Gunderson, Emory University
or
Not Currently Available for Direct Purchase