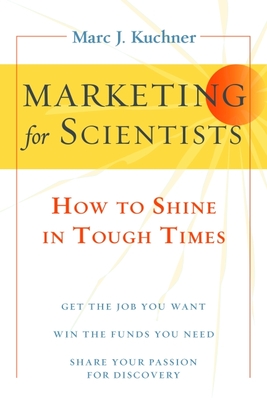 Marketing for Scientists (Paperback)
How to Shine in Tough Times
Island Press, 9781597269940, 248pp.
Publication Date: November 15, 2011
* Individual store prices may vary.
Description
It's a tough time to be a scientist: universities are shuttering science departments, federal funding agencies are facing flat budgets, and many newspapers have dropped their science sections altogether. But according to Marc Kuchner, this antiscience climate doesn't have to equal a career death knell-it just means scientists have to be savvier about promoting their work and themselves. In Marketing for Scientists, he provides clear, detailed advice about how to land a good job, win funding, and shape the public debate.

As an astrophysicist at NASA, Kuchner knows that "marketing" can seem like a superficial distraction, whether your daily work is searching for new planets or seeking a cure for cancer. In fact, he argues, it's a critical component of the modern scientific endeavor, not only advancing personal careers but also society's knowledge.

Kuchner approaches marketing as a science in itself. He translates theories about human interaction and sense of self into methods for building relationships-one of the most critical skills in any profession. And he explains how to brand yourself effectively-how to get articles published, give compelling presentations, use social media like Facebook and Twitter, and impress potential employers and funders.

Like any good scientist, Kuchner bases his conclusions on years of study and experimentation. In Marketing for Scientists, he distills the strategies needed to keep pace in a Web 2.0 world.
About the Author
Marc J. Kuchner is a staff scientist at NASA's Goddard Space Flight Center. He has contributed to more than one hundred research papers and published articles in journals including the Astrophysical Journal, Nature, and Astrobiology. He is also a successful country music songwriter.
Praise For Marketing for Scientists: How to Shine in Tough Times…
"Kuchner's book, Marketing for scientists, really helps to lead us down the path toward professional success....a must-read for ecologists and, indeed, for all scientists, mathematicians, and engineers at all career stages."
— Ecology
"...fun to read."
— Conservation Biology
"A book that understands both the mechanics of marketing and the nuances of the crazy but wonderful world of science, a world that is populated by people, not just data. Kuchner successfully gives a plethora of recommendations that are both accurate and contextual for a scientist's work…ProfHacker readers should buy this book."
— Chronicle of Higher Education ProfHacker blog
"All too often, the scientist is oblivious to all that's obvious to the marketing professional. Kuchner's book on this very subject, the first of its kind, arrives at a time when the intersection between the research frontier and the public's access to it is most in need of repair."
— Neil deGrasse Tyson, Astrophysicist, American Museum of Natural History
"What do you get when you cross a country music songwriter with an astrophysicist? A comprehensive tool kit for scientists who want to learn how to land their next grant, project, or job. Kuchner shows how marketing can be used to build relationships to advance your career and effectively promote science to the public. Chock full of stories and real-world examples, this engaging book will help you do both, whether you are a veteran science communicator or just learning the ropes."
— Heidi B. Hammel, Executive Vice President, AURA, and recipient of the Carl Sagan Medal
"The new book Marketing for Scientists belongs, not on every scientist's bookshelf, but on their desk! It's a useful, savvy guide for scientists on how to market their work and themselves, to the benefit of their career, their field, and science in general."
— Research Explainer
"Whether it's selling a new ingredient or formulation concept to marketing, getting a promotion or fighting disinformation and bad science, Marketing for Scientists is a great read for the cosmetic chemist."
— Chemists Corner
"Marketing for Scientists is a strong pick for anyone in a science career who often feels the money need[ed] to succeed just isn't there."
— Midwest Book Review