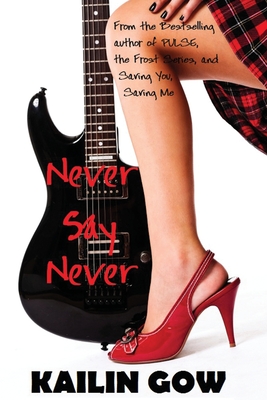 Never Say Never
Never Knights Series #1
Paperback

* Individual store prices may vary.
Description
**In Development as a Featured Film**What girl wouldn't want to be surrounded by the sexy guys from the hottest teen rock sensation in the country? 18-year-old Never "Neve" Knight, not only is surrounded by the hottest boys to hit the music charts, but she is the band's lead singer. As the band's lead singer and manager, Never formed and shaped the band to where it is today, a band on the rise and on the brink of being signed by a label. As one of the guys, she knew each of the band members since they were all snot-nose ten-year-olds. While her boys were the cutest guys and they would protect her like knights, she couldn't date any one of them and ruin the chance at being signed with the record label of her dreams. That changes when one of the band members suddenly drops out of the band, and in walks Danny Blue, with his dreamy blue eyes, hot body, and British accent. Suddenly, Never's solid world has turned to mush, and her rule for not dating one of her band members is seriously challenged. Can she keep her head straight and get her band signed with a label without losing her heart? Can Never change her tune of saying "never to dating a band member" to "never say never"?Books in the SeriesNever Say NeverNever LandNever Ending.
Edge, 9781597480161, 236pp.
Publication Date: August 13, 2012
About the Author
Sign up at http: //eepurl.com/bAxtXn to get a shout out from Kailin Gow once in a while, and to find out which book will be releasing next in the free newsletter from Kailin Gow. Kailin Gow was called an "innovating author" and an "Author as Influencer" by Goodreads executives at Book Expo America 2014. She was called "a successful author who knows how to balance being an author and life" by Huffington Post. Kailin Gow is not only a bestselling author who sold over 3.5 million books worldwide solely based on popularity, but she is a prolific filmmaker and screenwriter. Her Bitter Frost Series was made into a mobile game, is now in production as a MMO Game. Her PULSE Book Series' first book, Mysterious Teacher (a new spin-off prequel series), is already set to become a film, to be release in 2017, and her book Loving Summer is in pre-production for a release in 2018. Kailin Gow uses her author platform to bring awareness to issues affecting young adult and women. She has appeared on national radio as a regular guest on topics such as body image, self-esteem, dating and sexual relationships, bullying, and more; often brought up in her fiction books for young adults and women. She holds a Masters degree from the Annenberg School for Communications program in journalism, marketing and publishing at the University of Southern California. From visiting Romania, she was asked to write stories about vampires; visiting the Black Forest in Germany and seeing the castles of Europe inspired her to write fantasy; visiting Asia's mystical mountains inspired her to write action adventure and mythological dystopians. From her experience in college as a peer counselor and her volunteer work with women's shelters, she was inspired to write contemporary romance with social issues for women, new adults, young adults, and teens. Having faced adversity, including battling stereotypes and bullying, Kailin Gow has become a well-known speaker and figure in media. Kailin Gow is an American author who is of Chinese Heritage and lives in the Southwestern U.S. The full list of books and news about her YA and NA books can be found at: http: //www.kailingowteen.wordpress.com The full list of books and news about her 18+ years old hot steamy books can be found at: http: //www.kailinromance.wordpress.com Official Facebook Website: http: //www.facebook.com/OfficialKailinGow Films, TV, and Game Official Information http: //www.imdb.me/kailingow