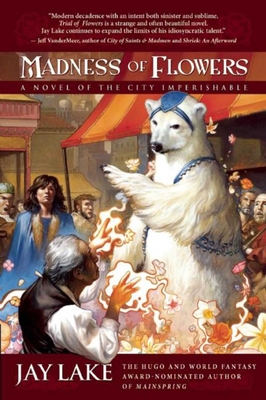 Madness of Flowers (City Imperishable)
Paperback

* Individual store prices may vary.
Description
The battle has been fought and won, and all have been transformed by the struggle. Imago of Lockwood has become Lord Mayor of the City Imperishable, though at a price beyond his wildest imagination. Bijaz the Dwarf has been imbued with a godlike power and a responsibility he scarcely understands. And Jason the Factor, resurrected from death at the hands of his sister, the Tokhari sandwalker Kalliope, has become the sula ma-jieni na-dia, the fabled Dead Man of Winter. When a beautiful mountebank arrives in the City Imperishable, offering to lead an expedition to uncover the lost tomb of the Imperator Terminus, she stirs up the mob with promises of treasure and imperial power... but what will her quest unleash? Political intrigue, adventure, and all-out war await the principles and inhabitants of the City Imperishable. Through it all, the City may endure, but none will remain untouched by the Madness of Flowers...

Skyhorse Publishing, under our Night Shade and Talos imprints, is proud to publish a broad range of titles for readers interested in science fiction (space opera, time travel, hard SF, alien invasion, near-future dystopia), fantasy (grimdark, sword and sorcery, contemporary urban fantasy, steampunk, alternative history), and horror (zombies, vampires, and the occult and supernatural), and much more. While not every title we publish becomes a New York Times bestseller, a national bestseller, or a Hugo or Nebula award-winner, we are committed to publishing quality books from a diverse group of authors.
Night Shade, 9781597800983, 288pp.
Publication Date: December 1, 2008
or
Not Currently Available for Direct Purchase