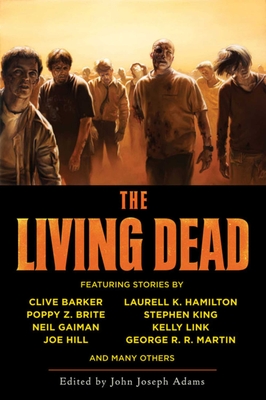 The Living Dead
Paperback

* Individual store prices may vary.
Description
Ideal for fans of iZombie, Colin Morgan, The Walking Dead, iZombie comics, Resident Evil anthology, Evil Dead anthology, and the Joe Hill graphic novel collection
A compilation of the best zombie literature of the past 30 years
Highlights works by today's most well-known and respected authors of speculative fiction, horror, and fantasy
Zombies have invaded popular culture, from White Zombie to Dawn of the Dead and from Resident Evil to World War Z. They have become the monsters that best express the anxieties and fears of the modern west. This collection gathers together zombie works by Stephen King, Harlan Ellison, Robert Silverberg, George R. R. Martin, Clive Barker, Neil Gaiman, Joe Hill, Poppy Z. Brite, Laurell K. Hamilton, and Joe R. Lansdale. These brilliant minds, and
The Living Dead
, cover the many types of zombie fiction. 
Skyhorse Publishing, under our Night Shade and Talos imprints, is proud to publish a broad range of titles for readers interested in science fiction (space opera, time travel, hard SF, alien invasion, near-future dystopia), fantasy (grimdark, sword and sorcery, contemporary urban fantasy, steampunk, alternative history), and horror (zombies, vampires, and the occult and supernatural), and much more. While not every title we publish becomes a 
New York Times
 bestseller, a national bestseller, or a Hugo or Nebula award-winner, we are committed to publishing quality books from a diverse group of authors.
Night Shade, 9781597801430, 504pp.
Publication Date: September 1, 2008
About the Author
John Joseph Adams is the editor of the anthologies By Blood We Live, Federations, The Living Dead, Seeds of Change, and Wastelands: Stories of the Apocalypse. Forthcoming work includes the anthologies Brave New Worlds, The Living Dead 2, The Mad Scientist's Guide to World Domination, and The Way of the Wizard. He is also the assistant editor at The Magazine of Fantasy & Science Fiction.
 
He is a columnist for Tor.com and has written reviews for Kirkus Reviews, Publishers Weekly, and Orson Scott Card's Intergalactic Medicine Show. His non-fiction has also appeared in: Amazing Stories, The Internet Review of Science Fiction, Locus Magazine, Novel & Short Story Writers Market, Science Fiction Weekly, SCI FI Wire, Shimmer, Strange Horizons, Subterranean Magazine, and Writer's Digest.
 
He received his Bachelor of Arts degree in English from the University of Central Florida in December 2000. He currently lives in New Jersey. For more information, visit his website at www.johnjosephadams.com.