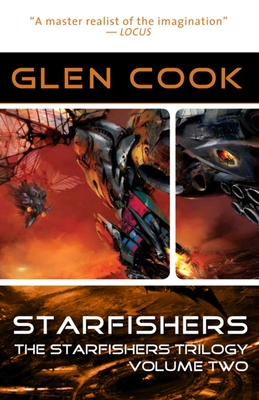 Starfishers (Paperback)
The Starfishers Trilogy: Volume Two
Night Shade, 9781597801683, 248pp.
Publication Date: April 1, 2010
Other Editions of This Title:
MP3 CD (5/31/2016)
* Individual store prices may vary.
Description
Starfish: Treasure troves of power. They were creatures of fusion energy, ancient, huge, intelligent, drifting in herds on the edge of the galaxy, producing their ambergris, the substance precious to man and the man-like Sangaree alike. In deep, starless space the herds were protected by the great harvestships of the Seiners, or Starfishers - the independent, non-Confederation people who dared to skirt the deadly boundaries of Stars' End and battle the Sangaree. It is with them on the harvestship Danion that Confederation agents Mouse Storm and Moyshe BenRabi have to fly and fight, probing mystery and myth. And where BenRabi, man of many names, must surrender his dreams and his mind itself to the golden dragons of space and their shepherds, the gathering... Starfishers.

Skyhorse Publishing, under our Night Shade and Talos imprints, is proud to publish a broad range of titles for readers interested in science fiction (space opera, time travel, hard SF, alien invasion, near-future dystopia), fantasy (grimdark, sword and sorcery, contemporary urban fantasy, steampunk, alternative history), and horror (zombies, vampires, and the occult and supernatural), and much more. While not every title we publish becomes a New York Times bestseller, a national bestseller, or a Hugo or Nebula award-winner, we are committed to publishing quality books from a diverse group of authors.