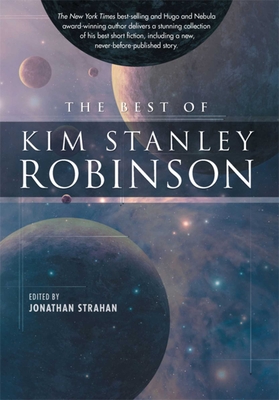 The Best of Kim Stanley Robinson (Hardcover)
Night Shade Books, 9781597801843, 389pp.
Publication Date: August 1, 2010
Description
Kim Stanley Robinson has been an ongoing force in the Science Fiction genre for over twenty years, with his novels (Year's of Rice and Salt, Forty Signs of Rain) crossing over to the mainstream, and routinely appearing on the New York Times best sellers list. During the 80s and early nineties, his short fiction continued to push the boundaries of science fiction, defining the science-focused side of the science fiction genre. Award-winning editor Jonathan Strahan worked with Kim Stanley Robinson to select the stories that make up this landmark volume. In addition to these reprints, The Best of Kim Stanley Robinson features a brand-new short story, "The Timpanist of the Berlin Philharmonic, 1942." Skyhorse Publishing, under our Night Shade and Talos imprints, is proud to publish a broad range of titles for readers interested in science fiction (space opera, time travel, hard SF, alien invasion, near-future dystopia), fantasy (grimdark, sword and sorcery, contemporary urban fantasy, steampunk, alternative history), and horror (zombies, vampires, and the occult and supernatural), and much more. While not every title we publish becomes a New York Times bestseller, a national bestseller, or a Hugo or Nebula award-winner, we are committed to publishing quality books from a diverse group of authors.
Coverage from NPR
Advertisement