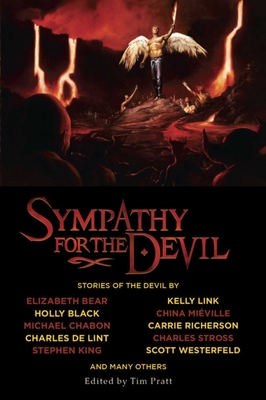 Sympathy for the Devil (Paperback)
Night Shade, 9781597801898, 500pp.
Publication Date: August 1, 2010
* Individual store prices may vary.
Description
The Devil is known by many names: Serpent, Tempter, Beast, Adversary, Wanderer, Dragon, Rebel. His traps and machinations are the stuff of legends. His faces are legion. No matter what face the devil wears, Sympathy for the Devil has them all. Edited by Tim Pratt, Sympathy for the Devil collects the best Satanic short stories by Neil Gaiman, Holly Black, Stephen King, Kage Baker, Charles Stross, Elizabeth Bear, Jay Lake, Kelly Link, China Mieville, Michael Chabon, and many others, revealing His Grand Infernal Majesty, in all his forms. Thirty-five stories, from classics to the cutting edge, exploring the many sides of Satan, Lucifer, the Lord of the Flies, the Father of Lies, the Prince of the Powers of the Air and Darkness, the First of the Fallen... and a Man of Wealth and Taste. Sit down and spend a little time with the Devil.

Skyhorse Publishing, under our Night Shade and Talos imprints, is proud to publish a broad range of titles for readers interested in science fiction (space opera, time travel, hard SF, alien invasion, near-future dystopia), fantasy (grimdark, sword and sorcery, contemporary urban fantasy, steampunk, alternative history), and horror (zombies, vampires, and the occult and supernatural), and much more. While not every title we publish becomes a New York Times bestseller, a national bestseller, or a Hugo or Nebula award-winner, we are committed to publishing quality books from a diverse group of authors.