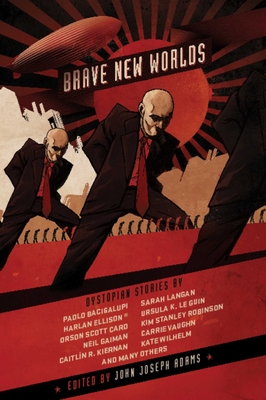 Brave New Worlds
Paperback

* Individual store prices may vary.
Description
You are being watched.

Your every movement is being tracked, your every word recorded. Your spouse may be an informer, your children may be listening at your door, your best friend may be a member of the secret police. You are alone among thousands, among great crowds of the brainwashed, the well-behaved, the loyal. Productivity has never been higher, the media blares, and the army is ever triumphant. One wrong move, one slip-up, and you may find yourself disappeared -- swallowed up by a monstrous bureaucracy, vanished into a shadowy labyrinth of interrogation chambers, show trials, and secret prisons from which no one ever escapes. Welcome to the world of the dystopia, a world of government and society gone horribly, nightmarishly wrong.

What happens when civilization invades and dictates every aspect of your life? From 1984 to The Handmaid's Tale, from Children of Men to Bioshock, the dystopian imagination has been a vital and gripping cautionary force. Brave New Worlds collects the best tales of totalitarian menace by some of today's most visionary writers, including Neil Gaiman, Paolo Bacigalupi, Orson Scott Card, Kim Stanley Robinson, and Ursula K. Le Guin.

When the government wields its power against its own people, every citizen becomes an enemy of the state. Will you fight the system, or be ground to dust beneath the boot of tyranny?
Night Shade, 9781597802215, 489pp.
Publication Date: January 2, 2011
About the Author
John Joseph Adams is the editor of the anthologies By Blood We Live, Federations, The Living Dead, Seeds of Change, and Wastelands: Stories of the Apocalypse. Forthcoming work includes the anthologies Brave New Worlds, The Living Dead 2, The Mad Scientist's Guide to World Domination, and The Way of the Wizard. He is also the assistant editor at The Magazine of Fantasy & Science Fiction.
 
He is a columnist for Tor.com and has written reviews for Kirkus Reviews, Publishers Weekly, and Orson Scott Card's Intergalactic Medicine Show. His non-fiction has also appeared in: Amazing Stories, The Internet Review of Science Fiction, Locus Magazine, Novel & Short Story Writers Market, Science Fiction Weekly, SCI FI Wire, Shimmer, Strange Horizons, Subterranean Magazine, and Writer's Digest.
 
He received his Bachelor of Arts degree in English from the University of Central Florida in December 2000. He currently lives in New Jersey. For more information, visit his website at www.johnjosephadams.com.
 
or
Not Currently Available for Direct Purchase