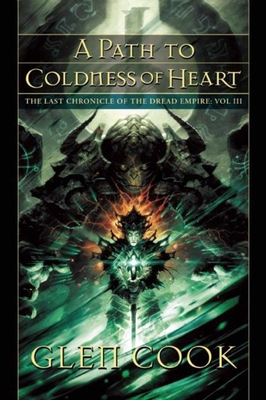 A Path to Coldness of Heart (Paperback)
The Last Chronicle of the Dread Empire: Volume Three
Night Shade, 9781597803311, 429pp.
Publication Date: August 26, 2012
Other Editions of This Title:
MP3 CD (7/12/2016)
Hardcover (1/25/2012)
* Individual store prices may vary.
Description
At long last, the conclusion to Glen Cook's Dread Empire saga has arrived! King Bragi Ragnarson is a prisoner, shamed, nameless, and held captive by Lord Shih-kaa and the Empress Mist at the heart of the Dread Empire. Far away in Kavelin, Bragia's queen and what remains of his army seek to find and free their king, hampered by the loss or desertion of their best and brightest warriors. Kavelina's spymaster, Michael Trebilcock, is missing in action, as is loyal soldier Aral Dantice. Meanwhile, Dane, Duke of Greyfells, seeks to seize the rule of Kavelin and place the kingdom in his pocket, beginning a new line of succession through Bragia's queen, Dane's cousin Inger. And in the highest peaks of the Dragona's Teeth, in the ancient castle Fangdred, the sorcerer called Varthlokkur uses his arts to spy on the world at large, observing the puppet strings that control kings and empires alike, waiting... For the time of the wrath of kings is almost at hand, and vengeance lies along a path to coldness of heart.

Skyhorse Publishing, under our Night Shade and Talos imprints, is proud to publish a broad range of titles for readers interested in science fiction (space opera, time travel, hard SF, alien invasion, near-future dystopia), fantasy (grimdark, sword and sorcery, contemporary urban fantasy, steampunk, alternative history), and horror (zombies, vampires, and the occult and supernatural), and much more. While not every title we publish becomes a New York Times bestseller, a national bestseller, or a Hugo or Nebula award-winner, we are committed to publishing quality books from a diverse group of authors.
About the Author
Glen Cook is the author of dozens of novels of fantasy and science fiction, including The Black Company, The Garret Files, Instrumentalities of the Night, and the Dread Empire series. Cook was born in 1944 in New York City. He attended the Clarion Writers' Workshop in 1970, where he met his wife. "Unlike most writers, I have not had strange jobs like chicken plucking and swamping out health bars. Only full-time employer I've ever had is General Motors." He currently makes his home in St. Louis, MO.
or
Not Currently Available for Direct Purchase