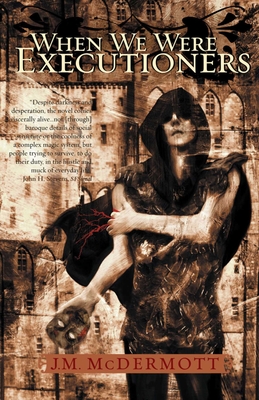 When We Were Executioners (Paperback)
Dogsland, Book Two (Dogsland Trilogy)
Night Shade Books, 9781597803380, 246pp.
Publication Date: February 14, 2012
* Individual store prices may vary.
Description
J. M. McDermott returns to Dogsland in the stunning novel When We Were Executioners, book two of a sweeping fantasy series that revels in the small details of life. Corporal Jona, the demon-stained Lord of Joni, died in the woods. His lover, the Senta Rachel Nolander, is a demon-tainted fugitive, running from the wolfskin-clad priest and priestess of Erin, who track her through the city based on dreams plucked from Jona's crying skull, plotting to cleanse the world of the lovers' demonic taint. Past and present collide as the tale of two ill-fated outcasts unfolds, and the executioners of Erin grow ever closer to their quarry. Skyhorse Publishing, under our Night Shade and Talos imprints, is proud to publish a broad range of titles for readers interested in science fiction (space opera, time travel, hard SF, alien invasion, near-future dystopia), fantasy (grimdark, sword and sorcery, contemporary urban fantasy, steampunk, alternative history), and horror (zombies, vampires, and the occult and supernatural), and much more. While not every title we publish becomes a New York Times bestseller, a national bestseller, or a Hugo or Nebula award-winner, we are committed to publishing quality books from a diverse group of authors.